Diet Coke launches social gifting with Twitter Canada
The brand's bid to give away bottles designed by Genie Bouchard saw 20 times the engagement compared to a typical tweet.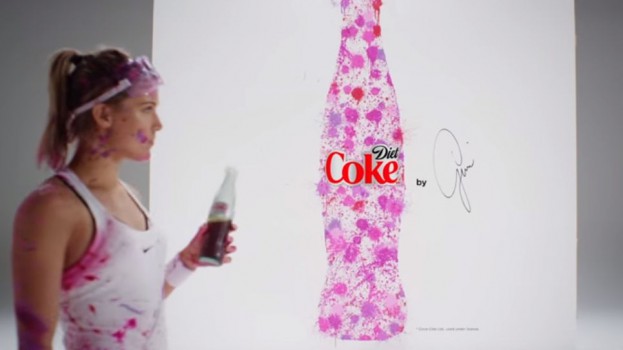 Getting its limited edition bottles into the hands of Genie Bouchard fans was the goal of Diet Coke's recent program with Twitter Canada.
The beverage company was the first to use Twitter's social gifting program in Canada, giving away 150 of Diet Coke's new "One of a Kind" bottles to users that responded to a call to action.
Users were driven to the giveaway with a 15-second video of Diet Coke-sponsored Canadian tennis star Genie Bouchard, showing her designing her limited edition bottle using her racquet by hitting paint-covered tennis balls coming from a machine. The spot was posted on Friday Oct. 7 and within 48 hours of being live all 150 bottles had been claimed.
Media for the Twitter spot and the overarching "One of a Kind" campaign is by UM, with Ogilvy & Mather on creative, Mosaic on experiential marketing and digital content and Hill + Knowlton Strategies on PR.
David Allard, director of marketing services and digital, Coca-Cola Canada, said the activation was targeted specifically at Diet Coke and tennis fans between the ages of 30 and 50, a group that the team found to be well-represented on Twitter.
He said the spot saw 20 times the engagement on the giveaway tweet versus a typical tweet from Diet Coke. The tweet also lead to a 33% lift in overall likes on the feed and an 80% jump in profile visits compared with last month. The Twitter giveaway generated 175,000 video views with an average cost-per-view that was 30% lower than the average for Diet Coke.
The overall Diet Coke "One of a Kind" campaign remains in market, with TV and digital spots supporting the platform.