Globe and Mail tops Vividata's rankings
The firm's latest study shows print readership is stable, but millennials still favour digital more than their boomer counterparts.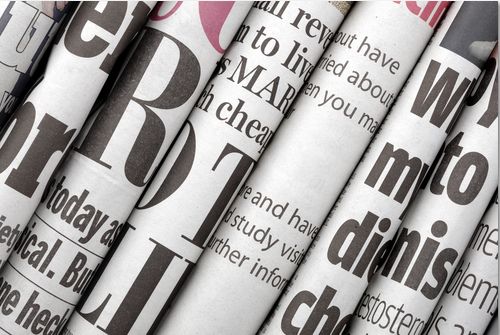 It's been a year of many changes within the Canadian media landscape, but some things still remain the same. The Globe and Mail once again came out as the most-read national newspaper in Toronto-based media research firm Vividata's quarterly report on media consumption in Canada.
The daily newspaper brought in an estimated unduplicated audience of 2.9 million across print and digital. Its closest national competitor, The National Post, brought in two million readers. The rankings are relatively unchanged from Q1, however the data was organized differently for that time period (Q1 presented in weekly readers, while Q2 presented readers per issue).
For magazines, Reader's Digest and Cineplex Magazine topped the English market with 4.6 and 4.5 million readers respectively across print and digital.
Topping the French market for newspapers was Le journal de Montréal with 1.7 million readers on print and digital, while Ricardo Magazine brought in 884,000 readers, more than twice as many readers as its next-most popular magazine, Les Affaires (337,000 readers).
Vividata's information was gathered on a rolling basis between July 2015 and June 2016 and tapped approximately 40,000 Canadians, asking them about their on print and digital readership habits for 144 newspapers and magazines.
Overall, newspapers and magazines are still reaching 90% of Canadian adults per week.
Eight out of 10 Canadians told Vividata they read a newspaper (print or online) once per week. Of adults that read a newspaper daily, 47% read only a paper version, 28% read only a digital version and 25% report that they read both. Print-only readership tends to favour local papers in non-metropolitan markets, with 56% of respondents in those markets reporting that they only read print.
Although declining ad revenue in print has lead to various publications shuttering or reducing their print circulation, Vividata's results found that print readership of newspapers is stable (up 0.5% year-over-year) and print readership for magazines has increased slightly (3%).
Despite their age difference, millennials (18 to 34) and baby boomers (50 to 64) engage a similar amount with newspapers on print or digital. On average, 74% of millennials engage with newspapers at least once a week, while 81% of boomers engage with the papers. However, the platform of choice differs widely by age — when asked if they read a newspaper yesterday, 65% of millennials who responded in the affirmative said they did so on a digital platform (38% digital-only and 27% digital and print), with most engaging via smart-phones. By contrast, 53% of boomers who read a newspaper the day before the survey read the print version, 23% were digital-only and 24% were a mix of the two. The older group engaged more with digital newspapers through desktop computers and tablets.
For magazines, fewer readers are giving up print entirely in favour of digital. Of the 73% of Canadian adults who read magazines — 57% read only a print version, 35% read a mix of print and digital while only 8% read digital-only. Millennials once again veer more toward digital (15% read digital-only and 45% read a mix) while 64% of boomers choose print-only and only 5% choose digital-only (31% choose a mix).
Platforms tend to differ by vertical — finance and  business, sports and news are more commonly read on digital, while lifestyle content such as fashion, food, health and beauty see more of a mix.
Below are the top results from each category. All results are  among readers age 12+ for magazines, 18+ for newspapers. Estimates are based on how many respondents said they had read the publication in the previous publication period (in the case of newspapers, it was in the previous day, for magazines the period varied depending on publication schedule).
English magazines: Print and digital
Reader's Digest (4.6 million readers)
Cineplex Magazine (4.5 million readers)
Live Better (4.1 million readers)
Canadian Living (3.8 million readers)
Canadian Geographic (3.6 million readers)
English magazines: Print
Reader's Digest (4.2 million readers)
Cineplex Magazine (3.8 million readers)
Live Better (3.8 million readers)
Canadian Living (3.3 million readers)
Canadian Geographic (3.1 million readers)
English magazines: Digital
Sportsnet Magazine (1.4 million readers)
Cineplex Magazine (1.3 million readers)
People (1.1 million readers)
Maclean's (1.1 million readers)
Canadian Geographic (1 million readers)
French magazines: Print and digital
Ricardo Magazine (1.6 million readers)
Coup de Pouce (1.4 million readers)
Vivre Mieux (961,000 readers)
L'Actualité (947,000 readers)
Touring (French and English) (941,000 readers)
French magazines: Print
Coup de Pouce (1.2 million readers)
Ricardo Magazine (1.2 million readers)
Touring (French and English) (889,000 readers)
Vivre Mieux (856,000 readers)
Bel Age Magazine (804,000 readers)
French magazines: Digital
Ricardo Magazine (844,000 readers)
Les Affaires/Les Affaires Plus (337,000 readers)
L'Actualité (327,000 readers)
Coup de Pouce (306,000 readers)
Vivre Mieux (255,000 readers)
National newspapers: Print and digital
Globe and Mail (2.9 million readers)
National Post (2 million readers)
National newspapers: Print
Globe and Mail (1.2 million readers)
National Post (869,000 readers)
National newspapers: Digital
The Globe and Mail (2 million readers)
National Post (1.4 million readers)
Ontario newspapers: Print and digital
Toronto Star (2.3 million readers)
Toronto Sun (1 million readers)
Ontario newspapers: Print
Toronto Star (1.3 readers)
Toronto Sun (682,000 readers)
Ontario newspapers: Digital
Toronto Star (1,292,000 readers)
Toronto Sun (490,000 readers)
Quebec newspapers: Print and digital
Le Journal de Montréal (1.6 million readers)
Le Devoir (438,000 readers)
Quebec newspapers: Print
Le Journal de Montréal (1 million readers)
Le Devoir (175,000 readers)
Quebec newspapers: Digital
La Presse (1.3 million readers)
Le Journal de Montréal (820,000 readers)
Le Devoir (326,000 readers)
Toronto newspapers: Print and digital
Toronto Star (1.5 million readers)
The Globe and Mail (862,000 readers)
Metro (752,000 readers)
Toronto Sun (643,000 readers)
24 Hours (601,000 readers)
Toronto newspapers: Print
Toronto Star (988,000 readers)
Metro (654,000 readers)
24 Hours (567,000 readers)
Toronto Sun (449,000 readers)
Globe and Mail (404,000 readers)
Toronto newspapers: Digital
Toronto Star (803,000 readers)
Globe and Mail (582,000 readers)
National Post (335,000)
Toronto Sun (295,000 readers)
Metro (210,000 readers)
Montreal newspapers: Print and digital
Le journal de Montréal (862,000 readers)
Métro (607,000 readers)
24 Heures (470,000 readers)
Montreal Gazette (295,000 readers)
Le Devoir (229,000 readers)
Montreal newspapers: Print
Le journal de Montréal (565,000 readers)
Métro (528,000 readers)
24 Heures (424,000 readers)
Montreal Gazette (182,000 readers)
Le Devoir (82,000 readers)
Montreal newspapers: Digital
La Presse (737,000 readers)
Le journal de Montréal (440,000 readers)
Le Devoir (175,000 readers)
Métro (158,000 readers)
Montreal Gazette (149,000 readers)
Vancouver newspapers: Print and digital
The Vancouver Sun (527,000 readers)
The Province (422,000 readers)
Metro (348,000 readers)
24 Hours (315,000 readers)
The Globe and Mail (287,000 readers)
Vancouver newspapers: Print
The Vancouver Sun (353,000 readers)
The Province (308,000 readers)
Metro (294,000 readers)
24 Hours (283,000 readers)
Globe and Mail (132,000 readers)
Vancouver newspapers: Digital
The Vancouver Sun (230,000 readers)
Globe and Mail (195,000 readers)
The Province (167,000 readers)
National Post (134,000)
Metro (85,000 readers)
Photo courtesy of Shutterstock