Spotted! Cadillac Fairview's selfie fever
As part of its "#TorontoStyle" social campaign, CF Eaton Centre encouraged Torontonians and tourists to upload their self-portraits to its 8,100 square-foot screen.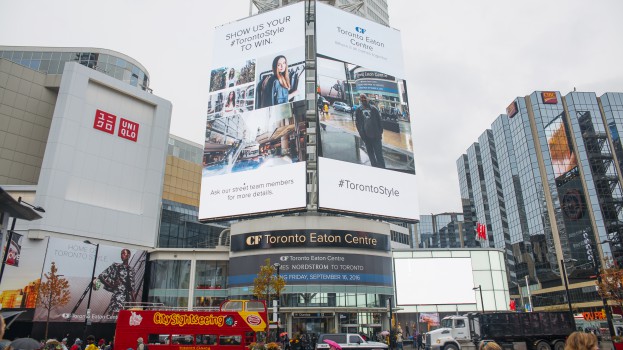 CF Toronto Eaton Centre took its selfie game up a level last week. On Oct. 21, passersby at Yonge-Dundas Square were encouraged to take selfies in front of the shopping centre and upload it with the hashtag #TorontoStyle. Those tagged photos were then showcased on CF Toronto Eaton Centre's new, 8,100 square-foot digital billboard.
The giant selfie event was part of an effort by Cadillac Fairview to promote the CF Toronto Eaton Centre's newest duo of digital boards, which were unveiled in September. It was also a part of CF Eaton Centre's "#TorontoStyle" social media campaign, which asks Torontonians what they consider to be the city's signature style.
The event was promoted through targeted social media and banner ads, lasting only on the day of Oct. 21. The media buy was conducted by agency BleuBlancRouge, with social media management by North Strategic.
"Putting this at the centre of one of the busiest intersections in Canada helps to continue our conversation around Toronto Style," said Craig Flannagan, VP of consumer marketing with Cadillac Fairview. "That helps to further our goal of inspiring shoppers to explore the fashion and style retail that we have."
The campaign aimed to capture a wide demographic of Toronto natives and tourists, with Flannagan noting that the universal ubiquity of selfies and the highly central, tourist-friendly location of the mall coincided together.
It also aimed to target fashion-loving shoppers, said Flannagan, in order to draw attention to the CF Toronto Eaton Centre's recent fashion retail openings (including Nordstrom and Uniqlo).