Spotted! Intact breaks the ice
The insurance company has partnered with RDS on a ground-breaking OOH activation.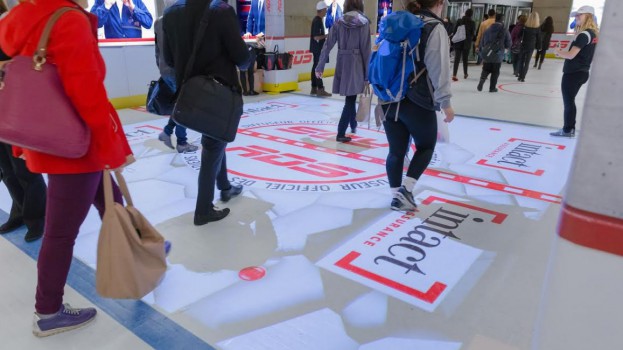 The problem with marketing insurance companies is people don't really like to talk about insurance. That's an issue Robin Monniere, VP, brand development and customer experience at Intact and his team have on a regular basis.
Couple that with a soft market where the insurance premium has been steady for about 10 years and a growing numbers of competitors, and you need to be creative to break out from the pack.
Intact has found success of late in Quebec with a campaign that takes a more humourous tone on the dry topic, launching a multiplatform campaign featuring popular character Rogatien Dubois, from the popular TVA comedy Taxi 0-22.
This month the company is expanding that campaign beyond TV with an OOH activation tied to its sponsorship of the Montreal Canadiens and partnership with RDS.  Intact built a virtual interactive hockey rink at the entrance to the Bonaventure metro station near the Bell Centre. The rink includes ice that appears to break as people walk over it. The project with done with media work from PHD, creative from Bell Media and BLVD providing interactive projection support.
Intact's campaign spokes-character Dubois is incorporated into the execution through posters that tie hockey to insurance with copy like "you can make two bad passes" that links to the company's accident forgiveness policy.
Monniere said the campaign and OOH activation is a long-term awareness play for the company, noting the core target for the company is adults aged 35 and older. The goal of the OOH piece is to reach hockey fans and business people who walk by the Bell Centre.
Intact's OOH activation will be live in Montreal until Nov. 13.