Print flyers aren't dead: Black Friday report
Analyst Jason Dubroy predicts that mobile and print won't compete directly for Black Friday attention, with mobile now serving as a facilitator of transactions rather than advertising.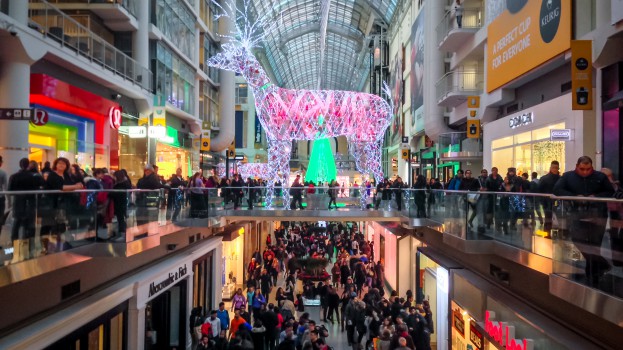 It's no longer a surprise that Canadians love Black Friday — the shopping event once associated mostly with U.S. Thanksgiving, which is now regarded as the unofficial kickoff of the holiday shopping season. In fact, one in four Canadians plan to shop the sales on Black Friday and Cyber Monday, according to new research from Metroland. The expected average spend? Approximately $347  per person.
The research was completed through online surveys earlier this year. It found that 44% of respondents will spend at least one week preparing for their Black Friday shopping excursions.
This plays a huge role in how retailers reach consumers, which Jason Dubroy, VP and managing director for TracyLocke Canada, told MiC is becoming increasingly multiplatform.
"From re-targeting strategies on Facebook, to using online flyer manifestation tools like Flipp, retailers are aiming to disrupt pre-shop planning as much as possible," said Dubroy. "Canadian retailers know form historical precedent that in order to make sure to prevent sales migrating to the U.S. they need to start teasing their black Friday deals the week before — or sooner."
Indeed, 40% of respondents indicated that they rely on a brand's own website, 35% report relying on digital and online ads, 28.5% rely on social media and 16.4% rely on television or radio ads, according to Metroland.
But flyers — print, in-store and online — remain the most popular. The research found that 81% of consumers use printed flyers as a resource for shopping information, while online flyers and aggregator apps and services like Save.ca are a resource for 52% of consumers.
Dubroy agreed that print flyers are far from dead. Citing recent data from the Print Measurement Bureau, he said 14.9 million Canadians report regular use of the printed grocery flyer, and that ads in national grocery flyers have a much lower CPM than taking out ads in magazines or newspapers, even though the flyers have larger circulation rates.
He added that mobile and digital ads aren't necessarily competing against print flyers, because they are beginning to serve a different purpose.
"We are now seeing mobile advertising beginning to shift shoppers from deal communication to m-commerce sites, in order to facilitate the physical transaction of purchases during Black Friday itself," he said.
"Shoppers are not dumb, they don't want to miss a deal because they waited till Monday, and in many cases the deals are better on mobile devices than on tablet or desktop."
Research from Adobe also indicates that enthusiasm for Black Friday overall is growing in Canada, and that enthusiasm will spill over into the remainder of the holiday season. Recent findings predict that during the holiday shopping season (between Black Friday and Dec. 31), Canadian retail will pull in $5.6 billion, a 12% year-over-year growth.
It also predicted that 18% of that revenue will be drawn from smartphones.
Image courtesy of Shutterstock