Spotted! TTC pays tribute to Honest Ed's
By adding some elements of the discount store to Bathurst Station, the TTC is not only promoting the store in its final months but aligning itself with an iconic Toronto brand.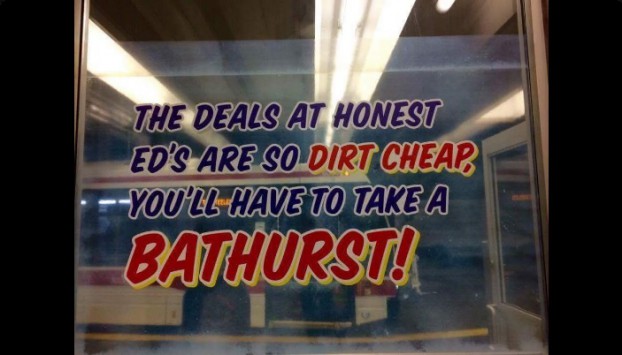 Honest Ed's may be set to close its doors in two months, but Bathurst Station is hoping to keep enthusiasm for the store alive and well — even after it shuts down its iconic light-up sign for the last time.
Starting Nov. 1, the walls and windows of the subway station, which sits kiddie-corner to Honest Ed's, were covered in posters and messages with a design (and sense of humour) similar to Honest Ed's iconic posters and knee-slappers, but with a TTC theme ("The deals at Honest Ed's are so dirt cheap, you'll have to take a Bathurst!" and "Turnstiles… Now Museum, soon you won't!").
The fonts on many of the station's signs (such as those directing foot traffic to platforms) have also been changed to the classic Ed's font, and various trivia facts about Honest Ed's have been added to the walls.
TTC deputy CEO Chris Upfold told MiC that Honest Ed's has been an important neighbour for Bathurst Station (predating the station itself by about 20 years) and the campaign was simply a natural extension of that neighbourly relationship.
"We've clearly always been complementary to each other," said Upfold.
The purpose of the campaign is to not only drive transit-goers across the street to the discount megastore as its permanent closing draws nearer (Dec. 31), but to align the TTC with a piece of Toronto culture.
"What the Mirvish Family and Honest Ed's represent is a great contribution to the city of Toronto," said Upfold. "The store and the signs are integral to the culture of the city."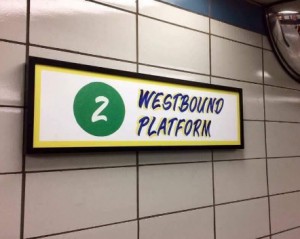 The collaboration was a joint effort by both Honest Ed's and the TTC, with all sign design done in-house (and, as Upfold pointed out, by hand. "This wasn't a font that we created to look like Honest Ed's, we used Honest Ed's actual sign painters," he said).
There are several relics which will be permanent in the station, such as photos of
Honest Ed's staff and some of the trivia facts. Upfold said the TTC is also currently looking into the viability of adding some elements of Honest Ed's original signage to the station.