Waze ups its ad offerings in Canada
The traffic app will give advertisers three new calls to action to reach users in the context of their drives.
The Canadian outpost of Google's navigation app Waze has rolled new ad updates into its latest version.
"Wazers really love to personalize and customize the app," said head of sales for Waze Canada Michael Wilson in a conference call announcing the updates. In order to accommodate that love of customization, Waze has added new calls to action for ads.
For banners at the top of the screen (which are only displayed when the app detects that the car has been at a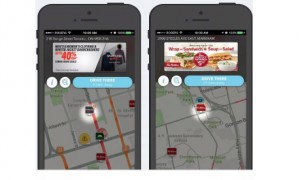 full stop for three seconds or more), a "remind me" call to action has been added on top of "click to call" and "save for later," which were already part of the offering.
Reminders, said Wilson, are especially useful for entertainment studios who want to promote movie release dates, or for large events such as concerts and festivals.
"These allow high engagement while keeping the user in the context of their drives," said Wilson.
It's also introduced a new Favourite Brands program, which tailors users' experience based on their pre-selected favourites.
"If a user had a preference for a specific morning coffee shop, they'll receive more ads along the way every morning from that company," said Wilson. The option, he said, will allow advertisers to introduce tailored loyalty programs to those customers.
In addition to the new offerings, the company also announced updates and enhancements to its current options. Pins for advertisers, which display business logos on the app, have been made slightly larger. Wilson described the pins as a sort of "digital billboard" for brands.
To accommodate the increased demand for Canada-specific sales, Waze has grown its Canadian office ("We've doubled in size from one to two," Wilson joked) by hiring on account manager Lindsay Carter earlier this year.