Canadian Red Cross barters on Bunz
The organization taps the trading platform to connect with millennials about emergency preparedness.
The Canadian Red Cross is joining the (online) world of used furniture and handbags with a new campaign launched on bartering platform Bunz Trading Zone.
Six months after the fires that destroyed much of Fort McMurray, AB, the organization is hoping to educate millennials about the importance of having an emergency kit, says Sara Falconer, director of digital communications at the Red Cross.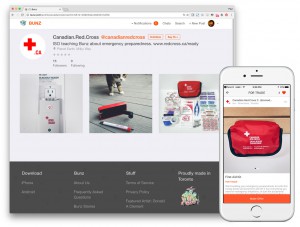 Working with Toronto's OneMethod, the Red Cross has created a profile on the trading site and app, using it to connect with its target by making important emergency kit items, like flashlights and first aid kits, available for trade.
When users post similar items for trade that could be useful in an emergency, such as blankets, the Red Cross is also responding with comments driving to more information on its website about emergency kits and preparation.
For those who post things they really do need to get rid of, the Red Cross is commenting with posts about useful items that can take their place, again driving to its emergency preparedness information.
The campaign kicked off Thursday and will run for several weeks.
Many Canadians don't consider themselves vulnerable to emergencies, but a disaster like the Alberta fires last year puts into perspective that in a situation of that size, everyone is at risk, Falconer says.
The Red Cross wanted to make educating people, especially millennials, about the importance of preparation a priority, taking that challenge to OneMethod and settling on the idea of using the bartering site – where many in its target actually are – to spread its message.
"The idea at the core of Bunz is so in line with the kind of work that we do," Falconer says. "We help people in need and we mobilize Canadians to help Canadians and in a way that's exactly what Bunz is doing too."