Hillcrest Mall takes the show on the road
The Richmond Hill, ON shopping centre is celebrating the opening of a new wing with its first major campaign since 2012.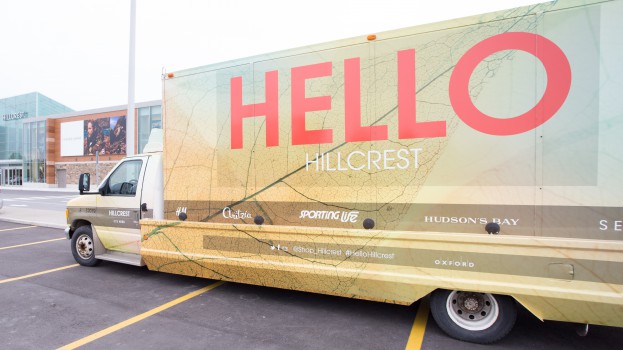 Richmond Hill, ON's Hillcrest Mall has recently re-opened its south wing with a string of new retailers, including Sephora, Sporting Life and H&M. To increase foot traffic to the new stores it promoted the openings with an OOH campaign, featuring a fashion truck cruising to strategic locations through Richmond Hill and Thornhill.
The truck, branded with imagery from Hillcrest's new "Hello" campaign, showcased five sample outfits from the new retailers through its side window. Inside, the trucks contained an even larger collection of clothes that visitors were invited to try on, and each was given a chance to win one of the five displayed sample outfits.
The four-day tour, which took place from Oct. 26 to 30, saw the truck stop at various high-traffic and retail-focused locations throughout the area — including plazas near competing malls Vaughan Mills and Promenade Shopping Centre.
The truck saw approximately 1,600 interactions over the four days, according to Sana Ali, VP of client services for Brees Communications, which managed the creative and media planning for the campaign, and executed all media buys.
The truck also stopped in residential neighbourhoods and surprised eight local residents chosen from more than 1,200 online submissions to offer them gift packs valued at $250 each.
"This kind of thing may be commonplace in Toronto, but in Richmond Hill and Thornhill there's a nice element of surprise to it," said Ali.
The touring truck is part of a wider campaign entitled "Hello," the first marketing campaign for Hillcrest since 2012 when the company was acquired by Oxford Properties. The mall first began renovations to its south wing in 2014.
Ali said the campaign serves as both a re-introduction of the mall following its updates, and as a promotional tool for new stores. While this campaign promoted the opening of Sporting Life, H&M and Sephora (and the re-opening of The Bay), another iteration, "Hello Aritzia," will begin in December to promote that store, which will be arriving next month.
The campaign is targeted at male and female shoppers in their early '30s in Richmond Hill, Markham, Vaughan, Aurora, Maple and North Toronto. Ali said the goal is to associate Hillcrest with high-end shopping that shoppers "would normally think to drive south into Toronto for."
"Hello" is also being supported by print ads in local magazines and newspapers, a billboard in Richmond Hill near the mall and paid social ads.