ICYMI: Free For All bolsters leadership, Home to Win returns
In case you missed it: people moves at Free For All and Peloton Media, a new History SVOD and more.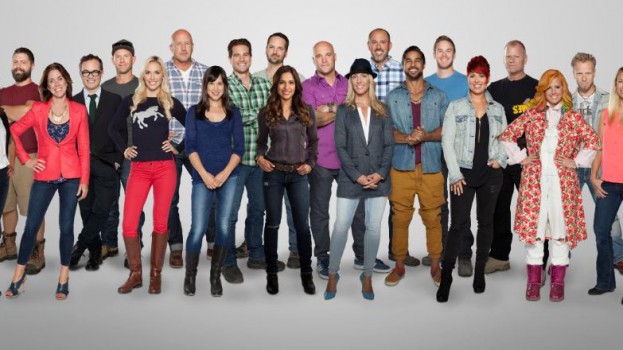 Free For All Marketing bolsters senior leadership
Experiential agency Free For All Marketing has appointed three new senior staffers. Former Telus regional market manager Cristina Grimm has joined the team as regional VP of the company's new west coast office operating out of Vancouver. Prior to Telus, Grimm spent seven years in experiential marketing roles at Newad and Grey Worldwide with clients including Best Buy and Nintendo. She is also a consultant and an instructor in project management at BCIT.
Jodi Spitzer, former senior director, has been promoted to VP at the agency's Toronto office. Spitzer has been with the company since 2012 and led accounts such as Toronto Hydro and Metrolinx. The company has also promoted former account manager Bibianna Poon to director of conferences and events to expand the agency's growing conference division.
Katie Wolf named president of Peloton Media
Katie Wolf will move into the role of president at Peloton Media following the departure of former president Kirsten Carney. Wolf has been serving as acting managing director for Peloton since November 2015 during the maternity leave of Carney. Prior to joining Peloton, Wolf served in director roles at Touché and AcuityAds Inc, and spent 12 years as an group manager with Cossette. Now at Peloton, Wolf will lead the digital agency in programmatic buying, search and paid social media efforts. A company press release has confirmed that Carney will not return to Peloton.
Production begins on season two of Home to Win
HGTV Canada has officially begun production on the second season of Canadian original series Home to Win. The competition series will bring together 30 of HGTV's celebrity builders, designers and real estate experts (including House of Bryan stars Bryan and Sarah Baeumler, Holmes on Holmes star Mike Holmes and Property Brothers' Drew Scott) to pool their renovation know-how and transform an average house into a dream waterfront property. The second season will premiere sometime in the spring of 2017.
Corus launches History SVOD
Corus has officially launched History Vault, History's SVOD service, on iOS devices throughout Canada. History Vault will feature hundreds of hours of content from the History library including series, documentaries and specials, for $5.49 monthly with no ads.
comScore receives MRC accredition
The Media Ratings Council (MRC) has officially accredited analytics company comScore for Sophisticated Invalid Traffic (SIVT) detection and filtration of desktop and mobile web traffic. Invalid Traffic is defined by the MRC as traffic gained through human intervention such as hijacked devices, ad tags, adware, malware or misappropriated content. This will allow comScore to provide its clients with more consistent and filtered metrics for the planning, buying, selling and evaluation of their digital advertising. The new detection methodology will be applied across several of comScore's products, including the Validated Campaign Essentials Audience and Validation suites, MMX and comScore Direct.
Co-Chair added to Warc's Innovation Awards
The Warc Innovation Awards, which recognize excellence and originality in the marketing industry, have added Dana Anderson, SVP and CMO of snack-maker Mondelez International as chair of the event's jury. Anderson has been in her position since 2014 and oversees agency relations, brand strategy, marketing, media and digital for the company. No date is set for the awards ceremony, but entries are being accepted until Jan. 12, 2017.
Cineplex Starburst Inc. rebrands as Player One Amusement Group
Cineplex Entertainment will officially change the name of its gaming and amusement equipment distribution company from Cineplex Starbust Inc. to Player One Amusement Group. The company was comprised of four businesses, including the main Cineplex Starbust Inc. brand, Brady Starburst LLC, Premier Amusements and Tricorp Amusements. Now under one amalgamated identity, the company will deliver entertainment and gaming solutions to clients such as theatres, arcades, restaurants, shopping centres and theme parks across North America and Internationally.
Vice launches in Indonesia
Youth-focused media company Vice Media has announced its latest major market expansion, this one into Indonesia. Indonesian operations will include local content production and creative agency services. With a population of more than 200 million, Indonesia is a particularly youthful market — according to its 2011 census, the median age of the country is 28.2 years, and people aged 18 to 34 comprise 50% of Indonesia's overall population. The launch was made possible through a partnership with Indonesian television network Jawa Pos TV and Google in order to bring original linear and digital programming to the country in English and Indonesian. The island nation marks the fourth official outpost for Vice in Asian (joining Japan, China and South Korea). Last month, the company launched branded Viceland blocks in 18 Southeast Asian territories (including Indonesia) with the intention of eventually expanding those to 24-hour Viceland channels.
Space triumphs with Doctor Who spin-off
On Oct. 22, the two-hour series premiere of Class, a spin-off of the popular sci-fi series Doctor Who, as well as the preceding program Innerspace Presents: Doctor Who made Space the most-watched specialty channel between 8 and 11 p.m. for the night in all key adult demos, according to Numeris numbers from Bell Media. Class premiered to an average audience of 465,000 according to Numeris data, ranking as the seventh-most popular series premiere in Space history. The series explores the Coal Hill Academy, a private school that has been a part of the Doctor Who universe since the 1960s.
Plastic moves in with Havas
Toronto mobile app agency Plastic Mobile will be relocating to the offices of its parent company, Havas, after five years in Liberty Village. The move was prompted by rapid growth for the agency in 2016, which saw Plastic add six clients, including the LCBO and Sun Life Financial, as well as the addition of 25 new staffers. Plastic will join Havas Media, Havas Creative and Havas Digital, which according to a company press release will allow the companies to deliver more integrated offerings to respective clientele.