Molson Coors extends MLSE partnership
The beer company has signed a 10-year renewal of its partnership with MLSE, which will include a sponsored pub and a promise for more digital content.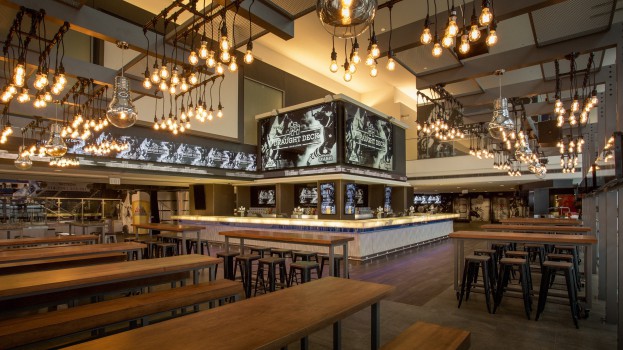 Molson Coors will spend at least another 10 years as an official partner of Maple Leafs Sports and Entertainment (MLSE) — the two companies signed to renew their partnership on Nov. 10.
The partnership dates back to 1973, when Molson paired with the Toronto Maple Leafs. Over the years as MLSE has evolved into a larger corporation, chief marketing and consumer excellence officer Christine Jakovcic, said the beer company evolved to play a larger role across MLSE's various properties such as the Toronto Raptors.
"As MLSE has expanded as a company, it's allowed us to expand our branding and advertising opportunities," she told MiC.
While the partnership has already included broadcast, in-game, digital and retail activations, the newest element of the partnership is the Air Canada Centre's new "Draught Deck."
The Draught Deck is a pub lounge located at the 300 level of the ACC which contains two bowl-facing suites, a bar and space for live music.
"We're obviously serving our beers at the Deck, and it gives fans a chance to be engaged with both our brand and the team," she said.
Jakovic said the renewed partnership will also see the two partners focus more on digital communication and media projects, although she said projects currently underway were still "secret."
Some examples of partner campaigns include the Toronto Raptors and "We the North" branded Coors Light cans, which the company has been producing during the basketball post-season for the past three years. She said the brand usually sees a 25% lift in sales during the promotion.
She said there are also plans to expand its offering of activations related to the Toronto Raptors, including activations on-court and in the public square known as Jurassic Park.
"Access [to games] is one of the key things that our drinkers look for in the activations," said Jakovic, and
The deal was negotiated internally with no media agency partner. The partnership also includes Molson Coors as the official partner of MLSE-owned venues and restaurants at Air Canada Centre, Ricoh Coliseum, Real Sports Bar & Grill and E11even Restaurant.