Coup de Pouce's milky 'white' issue partnership
How the Quebecor title worked with Les Producteurs de lait du Québec to create the special print edition.
Subscribers to Quebecor lifestyle magazine Coup de Pouce will notice a distinctly different look on the December issue – an all-white cover.
The custom cover is part of a deal with Les Producteurs de lait du Québec to create a "white" issue of the magazine,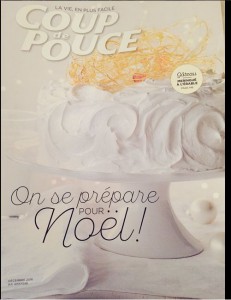 with a cake recipe that requires milk on the cover. The client is also integrated into the cooking section with three special recipes and a cut-out glass of milk opening the pages. The white theme has also been carried through to the style and home sections, where there will be content such as a feature on white clothing and furniture.
The deal was done in partnership with Touche! on media and LG2 on creative.
"We made sure we spent more time with the agencies together for this project," he said. "It was fully integrated together rather than going back and forth with RFPs," Donald Lizotte, EVP, advertising sales, at Quebecor Media Group.
In all, Les Producteurs de lait du Québec bought the cover and three full-page ads in the magazine as well as the back page ad. In addition to the 97% white cover for subscribers, the newsstand issue has a more colourful cover in order to be recognizeable.