Astral launches data-driven OOH product
The advertising company will use data from frequently updated services like Google Maps to create campaigns that are in the context of people's everyday lives.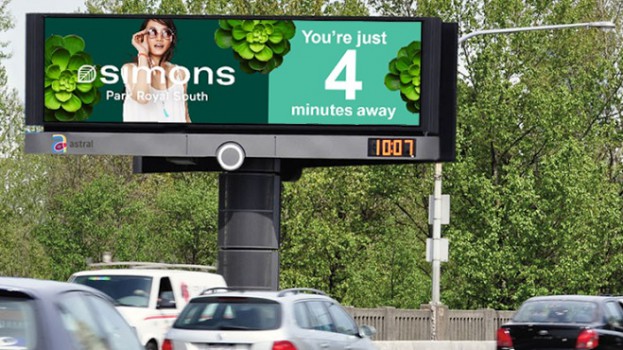 Astral Out of Home has introduced a new service called Momentum that incorporates data to allow for more real-time updates.
Now live in markets where Astral Out of Home has digital OOH boards, Momentum allows clients to adapt their messaging to criteria based on real-time events such as weather, traffic and even recent sporting events. The service has a 48-hour turnaround time.
While Astral has used data services to create more contextualized campaigns in the past, a spokesperson for the Bell Media division confirmed to MiC that this is the first time the company has offered the services as a specialized product as opposed to on a case-by-case basis.
He said the company is now using internally developed software as opposed to relying on third-party software, and now utilizes data from more frequently updated sources such as Google Maps and World Weather Online. The changes in Momentum mean that prices are now up to 70% lower than campaigns run using the previous technology.
Simon's recently used Momentum on a Vancouver campaign, telling drivers on the highway how much time they had until they reached the nearest store, with that number changing depending on traffic data.