Spotted! Yonge-Dundas Square dances to the beat of a new drum
The Belize Tourism Board uses interactive dance and music to promote the country as a vacation destination for curious explorers.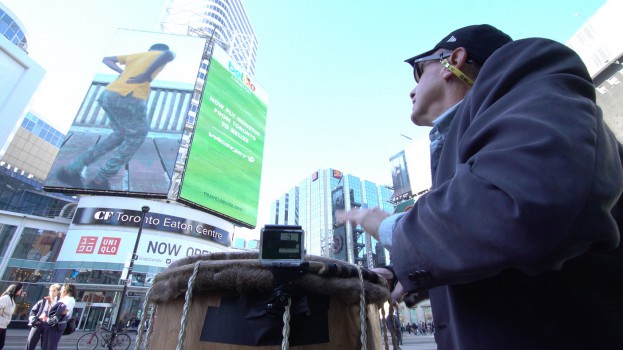 It's not uncommon to find music and dancing in Toronto's Yonge-Dundas Square — but earlier this week, those in the area got a chance to make their own music, and prompt some enthusiastic dance moves.
An experiential activation on Monday and Tuesday for the Belize Tourism Board featured a custom-built Belizean drum that allowed anyone passing by to create their own beat. The rhythm and volume of the beat generated by the drummer would then "power" a video of a Belizean boy dancing on one of the CF Eaton Centre's new 90-foot digital billboards.
Creative and media buying for the activation was executed by agency Olson, with the drum-to-screen custom software built by Street Factory Media.
Ryan Inda, creative director at Olson, said the campaign was aimed mostly at the 18-34 demographic, specifically at avid travellers looking for an alternative vacation destination — an image he said was supported by the creative.
"It's different from a trip to Mexico or Jamaica," Olson told MiC. "It's not about sitting on the beach with a cocktail, it's about doing something active and really engaging with this local culture."
Olson came up with the idea for the drum after meeting with a Belize-based NGO Drums Not Guns, which aims to get children and teens off the streets by teaching them to build their own drums.
The timing of the campaign was also to complement WestJet's recent launch of non-stop flights from Toronto to Belize, which were introduced in August.
The activation was promoted through paid, geo-targeted Twitter and Facebook ads, with boosted posts lasting another 30 days. Throughout that period, an online contest will also be held to give away round-trip airfares for two from Toronto to Belize. A similar campaign will be launched in Denver in January.
Over the two days of the activation, approximately 900 people stopped to play the drum, with foot traffic/impressions estimated at 292,000, according to Olson.