RBC targets millennials with old-school games
The financial institution's current strategy is to be associated with digital communication, and it's doing so through the most digital-savvy generation.
As RBC aims to keep its image current and digital-friendly, it's focusing its efforts on the millennial generation — ironically, using relics of the 80s and 90s to speak to that generation's heart.
The financial institution is currently hosting a party at a tent in Toronto's Liberty Village neighbourhood in order to promote the release of its newest credit card product, the RBC Rewards+ Visa card. Both the card and the party are aimed at the 18 to 34 demographic, and the celebration is filled with large versions of millennial favourites such as Jenga and Connect 4 and other games such as a stand-up shuffleboard and ping-pong.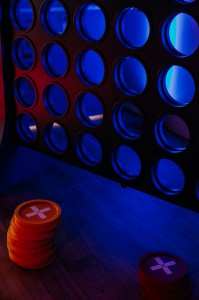 "The spirit of this activation is really all about fun," Jennifer Howard, head of marketing for cards and payment at RBC told MiC. "We were really excited when this space opened up because we wanted to target a place where millennials and young professionals congregate, which is how we see Liberty Village."
The party tent will also feature a social media wall displaying posts from the people at the activation, and will give away prizes (mostly in the form of cash and reward points) every 15 minutes. The experiential event was designed by GMR Marketing, and is being promoted through boosted social media and digital advertising, with media buys done internally by RBC.
The soft launch for the party took place Nov. 17 and will continue on throughout the weekend.
Howard said that RBC has been aiming its attention toward millennials with some of its recent marketing efforts as part of a goal to be seen as more digital-friendly bank.
"We're really pushing forward with a strategy to be seen as a bank that has a strong digital relationship with its customers," she said, using the new Visa card as an example as its sign-up process is completely paperless. "Really, the millennial generation is the most digitally enabled generation, so we've realized just how important that segment is."
Earlier this year, the financial company targeted the younger half of the millennial generation (as well as a few teens) with an initiative that gave $150 to thousands of Canadians between the ages of 16 and 25, asking them to use the money to do something to better their communities. The initiative has resulted in digital video and photo stories from the participants on how they've used that money.
So far, videos from the "#Make150Count" series have garnered more than 13,500 views on YouTube, with more than 300 posts using the hashtag on Instagram.
Howard said following the party, an additional marketing push primarily targeting millennials will be deployed throughout the beginning of 2017. She said the campaign will primarily focus on more online properties.
"Being the digitally enabled [demographic] segment, the choices we make over where we connect with them will be more digital and social centric."