CAA targets distracted driving with mobile game
The auto association is targeting a younger demo with a new online game that's being promoted through social media.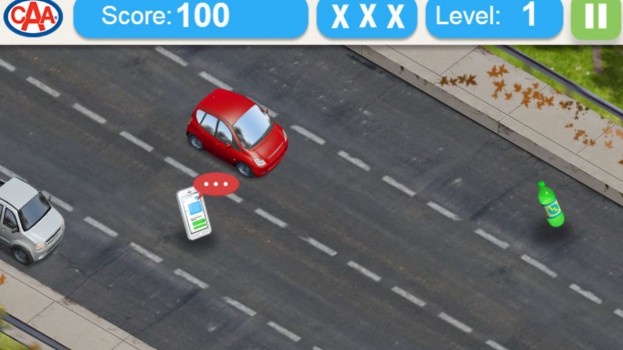 The national office of the Canadian Automobile Association (CAA) has launched a game highlighting the risks of distracted driving.
Called "TEXT U L8R," the online game targets a younger demo than the organization is used to reaching – those from 13 to 24. The game was created by Toronto-based Splash Works with media from m/SIX.
"One of the goals of the game is reaching a younger generation," said Kristine D'Arbelles, manager, public affairs, CAA. "But one of the interesting things about reaching a younger generation is that is that we hope that they also keep their parents accountable. If a young driver is learning off the bat that distracted driving is dangerous, then hopefully they will let their parents know that it's dangerous as well."
In the game the user drives an animated car down a street, moving between lanes to avoid hitting distracted driving obstacles like cellphones, food or makeup.
CAA is driving prospective players to the game through paid Facebook and Instagram posts, with demo-specific creative like animated gifs to make the connection to the game through social media on mobile.
D'Arbelles said the game is similar to a driving simulator that CAA previously had online. That simulator would calculate the amount of time the user's eyes were off the road depending on inputted information, such as road type, speed and distraction. But her team found that users fixated on the number given and then dismiss it as unrealistic. The new game gets away from that messaging but reminds drivers and potential drivers of the possible distractions they could face behind the wheel.
Last week's launch was timed to go live with the National Day of Remembrance for Road Crash Victims on Nov. 16. D'Arbelles said the plan is to keep the game running with paid promotions pushing to it through the end of the year.