The comeback kid: Maxi returns to TV
The discount grocery store is executing its first major broadcast campaign after 10 years of relying only on print flyers.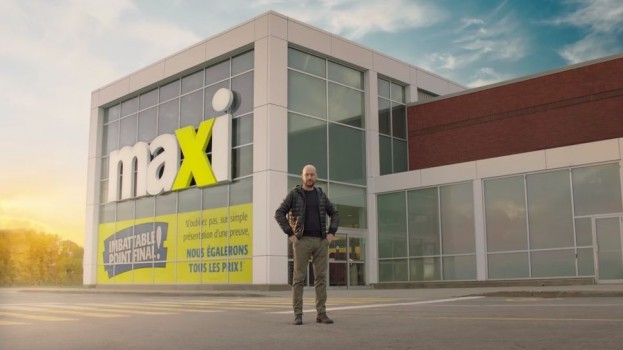 Quebecers have begun to see a familiar face on TV that hasn't popped up on the small screen in awhile — discount grocery chain Maxi.
The Loblaw-owned grocery chain has embarked on its first media campaign in 10 years, taking its messaging to digital, broadcast and radio. Creative in the French-language spots stars Quebec comedian Martin Matte perusing the aisles of Maxi, picking up items and identifying them incorrectly (such as a cut of beef as "good Quebec grain-fed chicken" and biting into a juicy tomato he refers to as an apple) and even introducing a customer as an employee and casually causing a display of cans to tumble down.
For the past decade, Maxi's only form of media spend has been print flyers. Catherine Viau, senior manager of brand marketing at Maxi and Maxi & Cie, said that spend alone had yielded desirable results — she told MiC the grocery store chain was number one in market share for discount grocers in Quebec, although she said she was not able to provide specific market share.
However, she said, the Loblaw-owned chain decided to up its visibility in order to deliver its message home.
"We've been seeing our competitors going on and on in the media," she said. "We want people to know that we're number one in the market, so we decided it's time to take that jump and put our message out there a little more."
The media buy for the campaign was executed by Dentsu Media, with creative by LG2. Viau said it's part of a two-year strategy to up its visibility and bring in even more new customers through various media platforms.
The ads are targeted at Francophones in Quebec aged 25 to 54, with a focus on women. "We know that women tend to be the main decision-makers for grocery and retail in the household," said Viau. She said the casting of Matte supported the goal to appeal to women without necessarily alienating a male audience.
The current broadcast ads will run until the end of 2016. For positioning, Viau said 65% of the broadcast spend was on top shows on conventional while the remaining 35% is on specialty channels. A digital version of the spot is circulating online in the form of YouTube pre-roll ads and a boosted Facebook post, along with targeted banner ads featuring Matte and radio ads with similar messaging.
Viau said that in the 48 hours since the ad went live on Facebook, it has been seen by 2.6 million people.