Groupe V dives into e-commerce
Pairing with Communications Voir's Media Boutique platform, the company is diversifying revenue streams by providing advertisers with a new direct-to-consumer offering.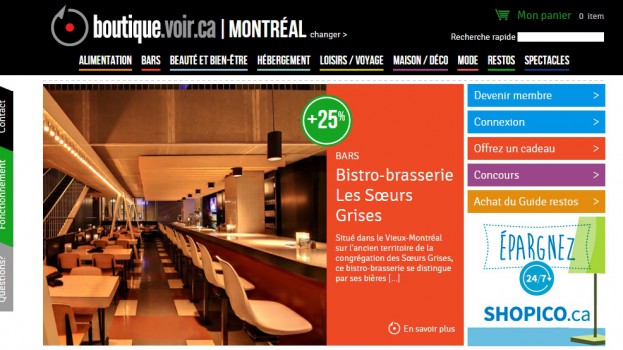 Groupe V Media has entered into a partnership with Media Boutique, an e-commerce start-up owned by Communications Voir, to launch its new e-commerce business, Boutique Noovo.
The new online boutique, set to launch in early 2017, will allow consumers to purchase pre-loaded cash cards from participating Groupe V advertisers that will result in money-back offers and rebates, in an effort to drive traffic to their bricks-and-mortar businesses.
Marc Giguère, VP of growth strategies at Groupe V Media, said it's also an opportunity to grow the media company's presence with local and small business advertisers.
Giguère explained to MiC how the cards would work for consumers:
"Let's say they invest $100 in a cash card for a restaurant — they will automatically get a bonus of either 25% or 40% on each transaction," he said.
In addition to expanding its client base with small businesses, Giguère said the new e-commerce option also adds a new method of measuring success. "They will be able to see if the campaign we did for them generated traffic in their stores," he said.
The Noovo Boutique will be advertised to viewers across Groupe V's various media properties.
Clients who use the Noovo Boutique will be given the option to execute an advertising campaign across Groupe V's digital properties without investing money upfront, instead paying for the cost of the pre-paid gift cards.
Giguère said the move is part of Groupe V's strategy to diversify revenue sources and partner with other media companies to tap various new audiences and opportunities.
He cited the company's recent partnership with millennial media co Vice Media to launch its linear channel Viceland across Quebec as another example of revenue diversification. "It fit well with our strategy to expand on our targets, to appeal more to the millennials," he said.
It also recently launched an online, ad-supported VOD, Noovo, which also aimed at engaging millennial audiences.
Giguère said he was unable to provide information on Groupe V's current digital traffic and ad revenue. A company rep did not provide the requested information at press time.