Spotted! Hendrick's Gin pipes up at the Eaton Centre
A pipe organ with cucumbers instead of keys may seem quirky, but senior brand manager Beth-Anne Perry says it's the most on-brand way to reach new audiences.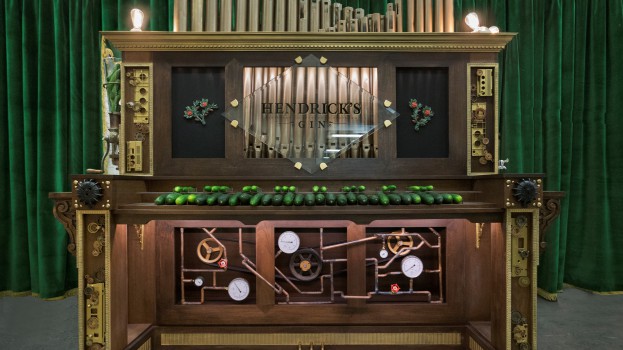 Hendrick's Gin is aiming to increase its brand awareness among Canadians, and drive home its image as an "oddly infused" spirit. So a large pipe organ with keys made entirely of cucumbers in the middle of one of Toronto's most popular malls fits the "odd" bill, right?
The Scottish gin maker unveiled a cucumber organ — or "corgan" — at Toronto's CF Eaton Centre earlier this morning. The fully-functioning and slightly-larger-than-standard-sized organ featured cucumbers in place of all 88 keys to promote Hendrick's, which is infused with rose and cucumbers.
Trained organists will take to the corgan to impress the mall's holiday shoppers. Small samples of Hendrick's will also be given out to passers-by of legal drinking age.
"It fits with our brand image, which is an unusual brand," said Beth-Anne Perry, senior brand manager for Hendrick's Gin. "I can't think of a better way to introduce people who might not be familiar with the brand. They could discover it through a billboard on the Gardiner, but this makes a bit more of a scene, it's a bit more true to the brand."
Perry told MiC that Hendrick's hasn't undertaken any major marketing efforts in Canada and most of its media spend has been directed at digital.
She wouldn't provide market share for the brand, but said this holiday campaign is leading into a push that the brand will have in 2017.
The experience will continue in the Eaton Centre to the end of the day on Dec. 1 and is promoted through some targeted, paid social media. Perry said that while the brand is aiming to touch on all adult demographics, she said the campaign's "sweet spot" is in the millennial demographic. Jungle Media conducted the media buy for the experience, with Ambient Squared managing the creative.
The brand will also host a tasting event in Roncesvalles on Dec. 2.