Spotted! KitchenAid unveils gingerbread city to drive holiday sales
The not-quite scale model of Toronto aims to pull more shoppers in to the small appliances aisle.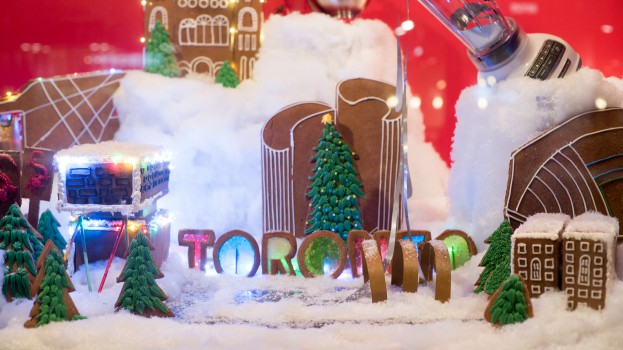 Run, run, fast as you can, can't catch me, I'm a gingerbread train!
KitchenAid is hoping to drive sales throughout the holiday season by bringing a bit of sweetness to Toronto through a window display at Bay and Dundas. The brand has created a gingerbread model of some of Toronto's landmarks, including Nathan Phillips Square, OCAD, Casa Loma, a working train and even a gingerbread Drake on the CN Tower.
The gingerbread city, which is also interspersed with KitchenAid products, will be on display in the window of the downtown Canadian Tire until the end of the  month. In-store activations will also take place in the Canadian Tire to drive shoppers to the KitchenAid products. The display was created by Toronto-based bakery The Rolling Pin.
"The holidays are definitely a very important time of year for us given the very occasion-driven nature of our products," Priya Trivedi, brand manager of KitchenAid small appliances and kitchenware. "We're hoping that this is something that can not only bring people into the store but get people posting on social media and engage with our products in the online space."
The window is also decorated with #GingerBreadTO messaging, encouraging people to take pictures and post on social media in order to be entered in giveaways for some of KitchenAid's products. Trivedi said that the social aspect of the campaign will likely give the audience a millennial skew.
The display is being promoted through paid social media with Cossette Media executing the media buy. A video distributed on Facebook will showcase the gingerbread city, with two versions — one geo-targeted to Toronto area which will go into further detail about the Toronto gingerbread elements, while the Canada-wide video will be more general.