How Kia Canada handled being locked out of the MLS Cup
Steve Carter, director of marketing for Kia Canada, on how the car co dealt with the MLS Audi deal.
Founding sponsor of the Toronto FC Kia Canada found itself in an interesting position heading into the first-ever MLS Cup, which was hosted in Canada on Saturday. After years of activating at BMO Field with vehicle displays, signage and giveaways, the car company wasn't allowed in the stadium because of a league contract with Audi at the league level.

So instead of being at the actual game, Steve Carter, director of marketing, Kia Canada took its Toronto FC partnership to a nearby Liberty Village tailgate party, with giveaways and a 2017 Kia Sedona on display. Most work was done directly with Toronto FC, with creative from Innocean.
Being locked out of the championship hasn't soured Carter on the overall deal. He noted the deal with Toronto FC is the strongest of the three MLS team sponsorships that Kia Canada has in the country (it also has founding partner deals with the Montreal Impact and Vancouver Whitecaps). The Canadian soccer team deals are part of a broader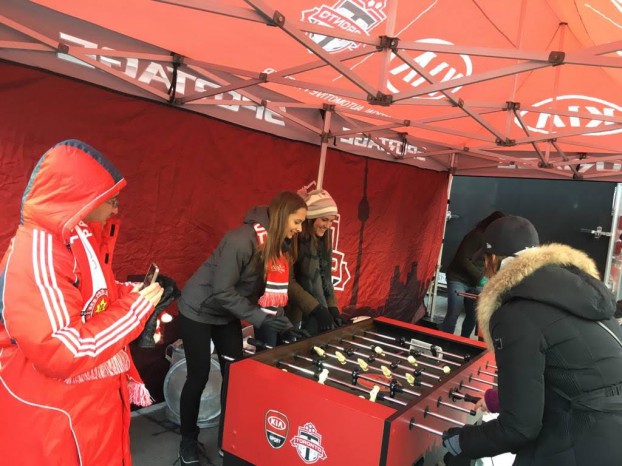 global affiliation with the game, with Kia partnering with FIFA and UEFA Euro at the global level.
In addition to stadium activations Kia Canada has evolved its work with Toronto FC over the years to include grassroots initiatives like Drive Change, which partners with MLSE's KickStart foundation to teach youth soccer skills. It is also the sponsor of Toronto FC's training centre, the Kia Training Ground and Academy.
Carter said Kia Canada's research has shown that MLS fans in Canada have a higher intention of buying a vehicle in the next year to 24 months, sitting at 61% for professional soccer fans versus 40% for other sports properties.
While he said he's unable to directly tie the sponsorship to sales, research has shown there is a greater intention to sign up for test drives from Toronto FC fans compared with Canadians in general. According to Kia Canada results, 45% of Toronto FC fans said they would visit locations and take a test drive compared with 25% of Canadians in general.
Fans were also twice as likely to say they would consider buying a Kia Canada car (23%) versus 12% of Canadians overall.
Kia Canada will continue to sponsor Toronto FC, as well as MLS teams in Montreal and Vancouver next season despite Audi signing on as the official car partner of the league in Canada last week, said Carter.
Image: Shutterstock