Spotted! Sports Experts takes 'the claw' to Facebook live
In order to drum up enthusiasm for the holiday season, the sports retailer encouraged social users to control the game with its reactions.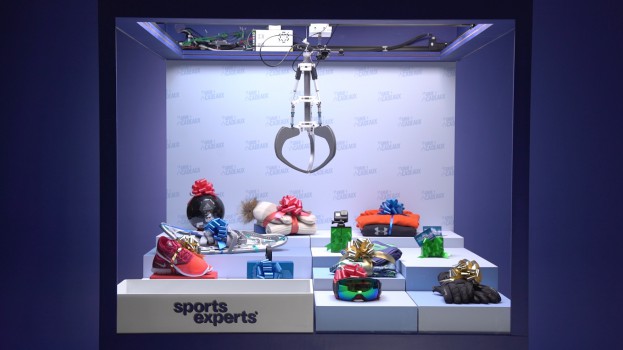 Quebec retailer Sports Experts has launched a new initiative where game show meets social as a way of showcasing its inventory for the holiday season.
In the first of a series of live-streamed video events that premiered on Sports Experts' Facebook page Dec. 8, an old-fashioned claw machine with gifts was controlled by unseen operators. The direction of the claw was determined by the live Facebook "reactions" ("like," "love," "wow" and "haha" each representing different directions). Viewers were all eligible for one of five prizes (all Sports Experts merchandise) in the video.
The first video saw more than 2,360 views. Three more broadcasts will take place on Dec. 12, 15 and 20, each at noon. The claw is filmed from a studio in Montreal, with prize-winners selected at random once they comment on the Facebook feed.
The broadcasts will be promoted through the Sports Experts newsletter as well as paid social media, with media buying by Touché. According to Josephine Allan, AVP of marketing for parent company FGL Sports, the target audience of this activation is wide-ranging, but may skew slightly young due to the social aspect.
While fellow FGL brand SportChek started experimenting on Facebook Live earlier this year, Allan told MiC this is a first for Sports Experts.
"This was a really innovative way to really go where our audience is going and just create a sense of intrigue and fun while showcasing our inventory for the holiday season," said Allan.
Allan said the risk with live broadcasting is the lack of guarantee that anyone will watch as opposed to more on-demand style videos, which is why the multiple broadcasts and the paid promotion will help.