Spotted! Motorola's mall funhouse
To promote its new line of smartphones and products in a whimsical way, the mobile phone maker has created some magic mirrors in the Eaton Centre.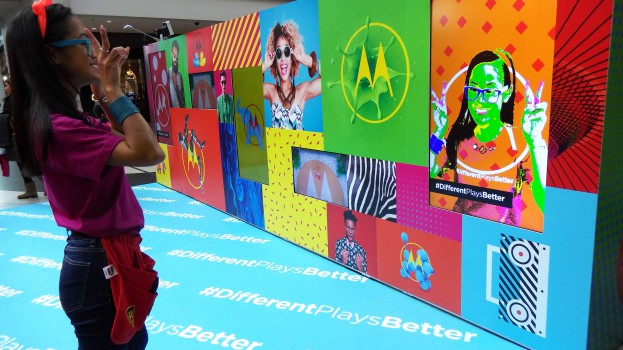 With all the holiday hype and the buzz of big shopping crowds, it can be hard to catch attention in the Eaton Centre. However, Motorola is hoping to cut through the noise with its colourful new activation on display near the Albert's Way entrance of the mall.
As part of its new "#differentplaysbetter" campaign promoting its new Moto Z and Moto Mod products, the activation will use augmented reality to create a line of Moto Mirrors, which allows consumers to see their reflections (captured through a Moto smartphone camera) transformed into colourful works of art in front of them using chroma key technology.
The activation also features brand ambassadors portraying characters from its new advertising creative (including breakdancers, skateboarders and other trick artists), and allows shoppers to test out its new products while giving them a chance to win coupons and other branded prizing.
Additional creative is projected onto the activation's walls through Moto's new Insta-Share projector.
"The look and feel is bright, bold, and extremely playful," said Carly Biggart, GM for Canada at Motorola. "Ultimately, we knew we needed to get the product in the consumers' hands. Moto is positioning Moto Z and Moto Mods as the tech gift of the season."
Biggart told MiC the activation is specifically targeting young, connected families, but chose a high-traffic mall to ensure a broad demographic reach. It's being promoted through boosted posts on Facebook and Instagram targeting the Toronto market, with paid media by Toronto-based Performics, a digitally focused buying, planning and analytics agency.
Other agency partners include H+K Strategies for developing concept and creative, Pro-X Exhibit on the fabrication of the exhibit and PixelPusher on technology for the Moto Mirrors.
The activation is ongoing until Dec. 18. Motorola did not have numbers of engagements available at press time.