NHL to kick off centennial celebrations with PreGame party
The two day Toronto event borrows elements from the recent World Cup of Hockey, while also launching new initiatives aimed at the coming anniversary.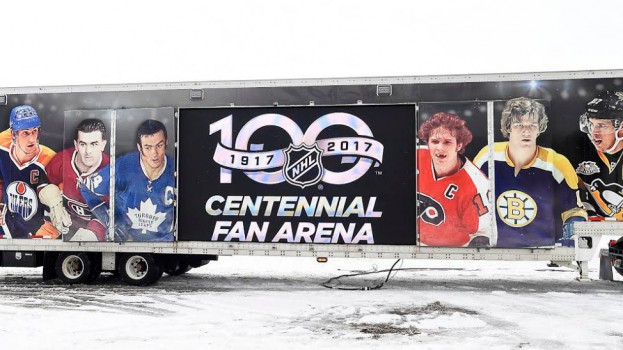 Toronto will mark the turning of the new year by hosting a massive, sponsorship-heavy party to kick-off the NHL's centennial celebration.
A two-day fan celebration is set to take place in the lead up to the 2017 Scotiabank NHL Centennial Classic outdoor game between the Maple Leafs and Red Wings on Jan. 1 at Toronto's Exhibition Stadium.
Called the "Spectator Plaza" in recent years, the celebration is now aptly named the "PreGame." Laurie Kepron, group VP, integrated marketing, NHL, told MiC the change was made to reflect the event's purpose – getting fans warmed up for the weekend's big games, which include the Centennial Classic and Rogers NHL Centennial Classic Alumni Game.
Kepron said this year's festival is the largest the NHL has hosted prior to an outdoor game, in part because it also serves as the start of its year-long centennial celebration.
Sponsors activating at the PreGame include title partner Scotiabank, as well as Canadian Tire, CHRISTIE, High Liner, Honda, Molson Canadian, President's Choice, Reese, Reebok, Rogers, Subway, Sonnet, Ticketmaster and Tim Hortons.
"We think it's a great opportunity for partners to be part of a fan community," said Kepron. "As we're looking broadly into what creates a memory, this provides a touchpoint for all levels of fans."
Kepron said the outdoor games tend to draw a diverse crowd, with families, groups of millennials and hard-core Toronto Maple Leaf and Detroit Red Wing fans all expected.
The PreGame party will be the launch pad for the NHL Centennial Truck Tour, which includes a 53-foot museum truck with interactive exhibits, another 53-foot trailer with video screens for player and alumni appearances and a pop-up rink for youth games and clinics. After its Toronto debut Jan. 1, it will tour North America throughout the year.
Photo credit: Graig Abel, NHL