Budget-friendly eats and plant-based food fill Gusto's winter schedule
As the clock ticks on the Bell specialty channel's "freeview" period, it's launching new original programming to capitalize on the country's biggest foodie trends.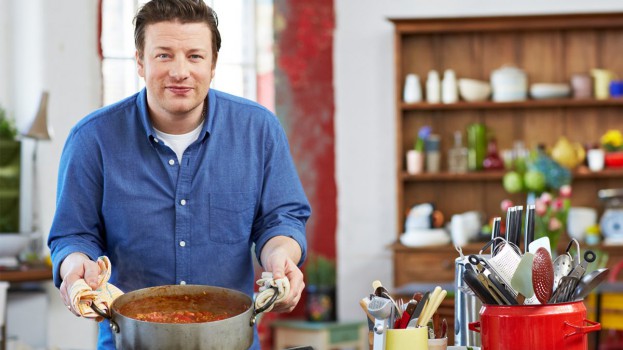 If your new year's resolutions included saving money, cutting meat out of your diet or possibly just drinking more wine, Bell Media's new food and lifestyle channel, Gusto, has unveiled its full winter programming schedule with a number of new niche shows suitable for those needs.
The schedule announcement comes as the clock ticks on Gusto's "freeview" period, which is set to end Jan. 10.
The season kicked off with the Jamie Oliver-fronted Save with Jamie (pictured) on Jan. 3, airing Tuesdays at 10 p.m. Oliver is already the face of several other shows and specials on Gusto including Jamie's 15-Minute Meals and Jamie's Super Food Family Classics, as well as the holiday-themed event Jamie's Christmas With Bells On, which aired Dec. 24. In his newest series, Oliver will showcase recipes with tricks on how to keep the cost of cooking at home down, with solutions on how to maximize the potential of the dishes' leftovers.
In keeping with the money-saving theme, one-hour series Eat Well For Less will debut Friday Jan. 6 at 9 p.m. The show stars food and grocery experts Gregg Wallace and Chris Bavin and will focus more on the shopping and planning aspects of cost-effective eating. The show will be followed by half-hour series The Urban Vegetarian, which follows host Desiree Nielsen as she showcases plant-based recipes for Gusto's audience. Pat DiVittorio, VP, program planning at Bell Media, recently told MiC's sister publication Playback that Gusto's target audience is mostly women, both in the 18-to-49 and 25-to-54 range.
For fans of wine, the 10 p.m. spot on Sunday nights will bring Uncorked, a one-hour unscripted series following six aspiring master sommeliers preparing for their Court of Masters Sommelier exams, which will allow them to enter an exclusive club for stewards of the food and wine industry, with only 200 members worldwide.
Premiering Jan. 18 at 10 p.m. will bring Lorraine Pascale: How to be a Better Cook starring chef Lorraine Pascale. Pascale's series will target kitchen newbies with recipes and
DiVittorio said that balancing recipe shows with series that focus more on lifestyle and culture is part of Gusto's plan to create a channel that provokes its audience to think about food and cooking more, rather than focusing strictly on instructional and competition series.
"Our approach is all about inspiring people to cook, presenting the food a certain way and really [looking] at this as a holistic, lifestyle channel," said DiVittorio.
To that end, Gusto will also continue to roll out shows that fall strictly into the lifestyle category with little or no food content. New series The House that 100K Built (Sundays at 8 p.m. beginning Jan. 29) will follow architectural journalist and critic Kieran Long and architect Piers Taylor as they profile self-builders and follow them through their home-building journeys.
DiVittorio said that while the cooking shows tend to skew more female, the lifestyle shows are a vital piece of the puzzle as they tend to lean toward more co-viewing.
She added that Bell has attempted to capitalize on the country's top foodie trends and make sure that its original programming reflects those.
"For example, young people are cooking more, people are more concerned about health, there's the farm-to-table trend that started a few years ago," she said.
Returning shows to the winter schedule include One World Kitchen (Mondays, 10 p.m.), Fish The Dish (Fridays, 10:30 p.m.) and The Wine Show (Sundays, 9 p.m.).