Blog: Tech and media converge at CES
Tapped Mobile president and co-founder Jed Schneiderman with his top trends following a whirlwind 48 hours at the Las Vegas event.
By: Jed Schneiderman
My first thought when I arrived in Vegas for CES was get some sleep, drink lots of water and get ready for a manic 48 hours. CES did not disappoint.
Celebrating its 50th year, CES of course showcased many modern day electronics, but also this year really showed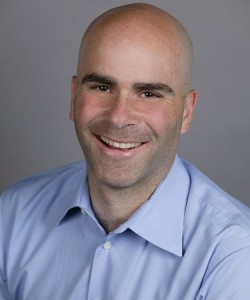 the convergence of tech and media, with increased elements of on-demand and greater personalization.
The rise of crazy connected cars
Walking into the North Hall, one could easily mistake CES for the Auto Show. There were concept cars, self-driving cars, electric cars and connected cars. What was different this year was the way car companies talked about cars and our relationship with them. Many showed off personalization technology where cars will soon recognize personal preferences (including content of all sorts) and in some cases mirror one's lifestyle. Mercedes has the My Mercedes app, which helps you live your personal life and share information with your outside of your car. And VW showed off its integration with Alexa where drivers will be able to replicate voice commands in the car that have been previously programmed on the intelligent personal assistant. It's clear that the car companies are trying to make the driving experience more personal and more comfortable, knowing that ride-sharing and autonomous cars might provide real alternatives to owning cars.
Also on the rise: the connected home
There were lots of connected devices – new fancy appliances including new TV sets which are thinner than ever. This year, there was a lot less emphasis on the connected home versus a few years ago. What I found interesting were products like connected sunglasses (mainly prototypes) that deliver weather info, maps and even text messages from friends. Screens were not just on phones and TVs. I don't see a major impact coming in 2017 other than further fragmentation of content consumption.
It also seems like a lot of data is being collected by this new tech, although no one really talked about how the data is being used, stored or protected, but it will be neat to see how this evolves.
Will VR ever truly hit the mainstream?
There were way more goggles to try on in every building offering immersive VR experiences at this year's CES. I was eaten by zombies in a video game, went on a roller coaster ride and felt what is was like to be in a self-driving car. As well, I attended an interesting session with movie studios talking about the future of VR in film/TV. I'm still left wondering what content consumers will want to watch, what it will take to get goggles in the hands of every consumer and how long consumers will be willing to place goggles over their eyes (without getting sick). Tons of fun to try on – felt like I was at amusement park, but hard to see it being a major trend in 2017 other than for niche categories like entertainment, gaming and perhaps travel.
So for this year, the show was inspiring, entertaining and mildly futuristic. CES 2017 gave us a glimpse what life might be like given the intersection and convergence of devices with greater levels of personalization and more ways to interact and to connect.
Jed Schneiderman is president and co-founder of Tapped Mobile