Reader's Digest Canada blows out 70 candles
Publisher Karin Rossi said the magazine's ad revenue is tracking ahead of plan for the fiscal year to date.
Reader's Digest Canada is celebrating a milestone in 2017, marking its 70th year of publication in the country.
Karin Rossi, publisher, Reader's Digest Brands, Canada, said both Reader's Digest Canada and its French counterpart, Sélection, will mark the milestone with additional content and throwbacks throughout the year. Anniversary features in print will include stories from the "RD Vault" that will present beloved feature stories, notes from readers on how Reader's Digest has inspired them and pieces from prominent Canadians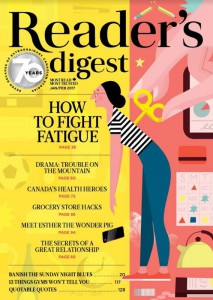 examining what the magazine has meant to them.
In addition to throwbacks on the editorial side, the October anniversary issue will feature ads from 70 years ago alongside current spots from the same brands, said Rossi.
Online the celebration will include a "70 things" feature, which will have facts, jokes and advice that Reader's Digest has run over the years.
Sponsorship opportunities around the online feature as well as the "RD Vault" series are available, said Rossi.
While not immune to the challenges facing the magazine industry, Rossi said Reader's Digest is entering its 70th anniversary year ahead of its ad revenue plan for its fiscal 2017 ad budget. She said from July 1 to Dec. 31, 2016, the magazine had reached 103% of its ad revenue for the year and is beating last year's numbers to date. It also ranks as the most-read magazine in Canada across print and digital, reaching 4.6 million Canadians according to the latest Vividata numbers.
She attributes the current success to a number of factors, including a switch the title has made with how it produces content across platforms. It used to take approximately 80% of its print content and put it online, with original content filling remaining 20%. But it has flipped that formula, with original content now making up 70% to 80% of online content, and print content accounting for the rest of the space.
Rossi said adding more original content online has helped to age down its digital audience, attracting more advertisers to Reader's Digest Canada's sites. The average age of Reader's Digest print readers is 51, with online readers hovering around 42 years old. Selection has an average age of 55 in print and 45 online. Ad revenue splits have moved more online as well, moving to a split of 74% print and 26% digital from 88% print and 12% digital.