Rogers Radio goes live for new deal with Air Transat
Daily spots are part of a one-year deal between the travel company and KiSS 92.5.
Listeners of Rogers Radio's Toronto area station KiSS 92.5 will hear something of a throwback from the hosts of The Roz and Mocha Show starting this week.
The duo are part of a new set live commercials on Rogers Radio, a piece of a new year-long deal with Air Transat. Negotiated directly with the travel company, the partnership includes daily spots that will be read live on air by Roz and Mocha during at least one commercial break of their weekday show. Though its being touted as a new format it harkens back to the early days of radio when announcers read all the spots live on air.

Paul Kaye, national format director, contemporary hit radio, Rogers Radio, said the live commercials play to the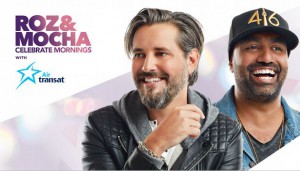 immediacy of the platform, and also allow the brand to integrate more deeply within the show.
"With this deal, Air Transat could decide to change its messaging at 5 a.m. the day the ad is going live and Roz and Mocha can deliver that new message, he said. "That helps with the immediacy. We believe the heart of radio is the talent and the connection they build with the audience. So it made sense to use the talent in reaching the audience and finding a new way to cut through."
Roz and Mocha receive a new copy for the day's spot each morning through the duration of the deal. Playing on the popularity of the show's hosts fulfills one of the suggestions that David McDonald, VP, director of radio investments, Mediabrands, had for radio to succeed in 2017.
In addition to the live commercials, Rogers Radio's deal with Air Transat includes more traditional elements, like contests for listeners to win vacations through the travel company and brand visibility on the show's website as a presenting partner of the show.