Instagram unveils Snapchat-esque Stories ad unit
Facebook has brought ads and measurement insights to the disappearing content feature.
Facebook has introduced ads to the Stories feature of its Instagram social platform.
The temporary content feature designed to compete with Snapchat launched five months ago, allowing users to package photos and videos throughout the day, with everything disappearing after 24 hours.
Facebook says content in Stories is now viewed by 150 million users daily. That's a 50 million increase since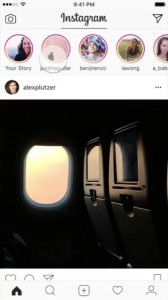 Instagram release numbers three months ago.
The ads, which launched Wednesday, will be tested with over 30 global clients, including Capital One, General Motors and Buick. The spots will appear full screen within the Instagram Stories feed and will be clearly marked as "sponsored." The video ads will be 15-seconds long – five seconds longer than the similar ad unit on Snapchat – with the option of using five-second static images as well.
Along with the addition of ads within Instagram Stories, Facebook is also bringing Insights to the unit. That update will allow clients to see the reach, impressions, replies and exits for each individual story, not just the paid ads.
Vishal Shah, director of product management, Instagram, noted that the ad option is an interesting one for clients because 70% of the app's users watch Instagram Stories with the sound on. (That stat doesn't include stories that stream live on the platform.)
Instagram currently boasts a bigger audience than Snapchat (Statista estimates Instagram's active monthly user base at 500 million versus 301 million for Snapchat), though they seem to appeal to slightly different audiences. According to the latest numbers from Solutions Research Group, the average age of Snapchat users is 28. That number goes up to 32 for Instagram users.
Shah said the beta testing period for Stories ads will be short, with country-level opportunities expected to open in the coming weeks. As with ads within Instagram's normal feed, Shah said that Facebook wouldn't divulge information on how frequently ads would be appearing within Instagram Stories.