Adidas and Raptors sign new three-year partnership
The athletic apparel brand will pair with local infleuncers to create content inspired by basketball culture and display its product lines at a new ACC lounge.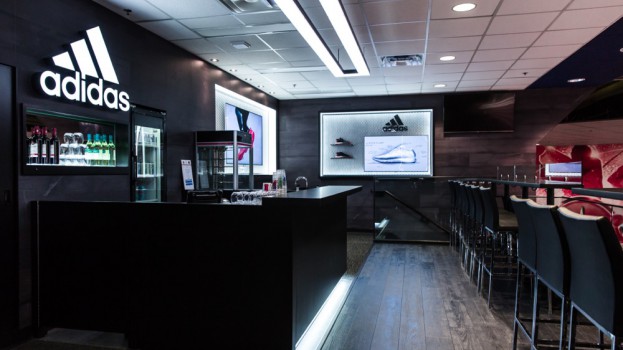 Adidas has entered into a new three-year partnership with the Toronto Raptors, becoming the team's official athletic apparel company. Elements of the partnership will include in-game activations for fans, digital basketball programming and the new Adidas Creator Lounge.
The new lounge is a retrofitted gondola suite in the Air Canada Centre that will be open to fans as a bar while also showcasing various collections from Adidas' product line.
Stewart Smith, VP of marketing for Adidas, told MiC the contents of the lounge are expected to evolve throughout the year.
"The unique thing about this is it might not always be basketball related," said Smith. "It's a good opportunity for us to showcase products, get some feedback and build out the brand with the key target of basketball fans."
Adidas will also work with Toronto-based digital creators and influencers to create content in the music, fashion and pop culture space taking inspiration from basketball culture on platforms such as YouTube, Facebook and Instagram. Adidas has dubbed the program the Adidas Creators Forum. None of the participating influencers have been announced yet.
"This allows us to really connect with the community around basketball," said Smith.
Adidas' last partnership with the Raptors lasted from 2014 to 2017, but Smith added that the Creators Forum and Lounge are unique to the new deal. He said he could not share any specific details about how the partnership had benefited Adidas from a sales and  brand perspective.
While Adidas formerly held the global licensing agreement for the Raptors, Nike has since taken over the agreement. However, Smith said, Adidas will still hold a local licensing agreement with the team, allowing it to sell the branded apparel onsite at the Toronto Raptors Store.