Failure not an option for Godfrey
The Postmedia president and CEO said government assistance could provide the "runway" the media industry needs to bridge the gap between print and digital.
Paul Godfrey said he wasn't in the business of predicting a win when he was heading up the Toronto Blue Jays, and he still isn't now when asked about when the Canadian newspaper business will turn around.
But with an eye for new business models and a bit of help from Ottawa, Postmedia's president and CEO believes his company's story will be a happy one when that turn around happens.
MiC talked to Godfrey Thursday after Postmedia's investor call and the release of its first quarter fiscal 2017 results. Those results continued the expected trends – print ad revenue dropping 21.9% and digital ad revenue up 4.1%.
During the investor call, Godfrey said that Postmedia's focus remains on pivoting away from traditional media to be able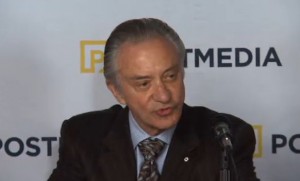 to compete with non-traditional digital players like Facebook and Google.
But, he added, the losses in print advertising revenue can't be made up on digital alone. It's why the company continues to pursue cost-cutting initiatives, including the 20% cut to staff expenses that is expected to conclude in its second quarter.
Talking to MiC, Godfrey said that in addition to its work expanding digital marketing services and its programmatic offerings, government assistance would give the media company the lead time it needs to begin making more money on the non-legacy offerings.
"We know search is important, social is important and digital marketing services are important," he said. "And if the government can come in and help until we're able to mature in the market, then we might have a very nice story that we end up with."
Godfrey was one of the media company leaders that presented to the standing committee on Canadian Heritage last year, suggesting options like tax incentives for Canadian advertisers to spend their marketing budgets within the country. He said he was heartened by comments from Heritage Minister Melanie Joly earlier this week that the government believes in the importance of journalism and is looking at the role it should play in supporting the creation of Canadian content following the public hearings.
"If it's a level playing field for everybody, we feel that we could probably survive in that type of a world," he said.
Regardless of being faced with seemingly never-ending drops in print ad revenue and digital gains not making up the gap, Godfrey told a questioning investor during the first quarter call that he intends to see the business through to more positive times.
"I don't intend to make my last stop in business to be a failure. I'm looking for success and enjoy the challenge. I'm determined to not only find paths to success without government funding, which is difficult, but not impossible.
"But at the same time, it would become a lot easier when people in Canada recognize that assistance to journalism in Canada is real plus to the public and to democracy."