ICYMI: Josh Donaldson to make acting debut on History, Facebook dives into journalism
In case you missed it: History is hoping the Jays' third-baseman is as popular on the small screen as he is on the field, Fido is delivering Viceland for free to its customers and Facebook is laying out more plans to curb fake news.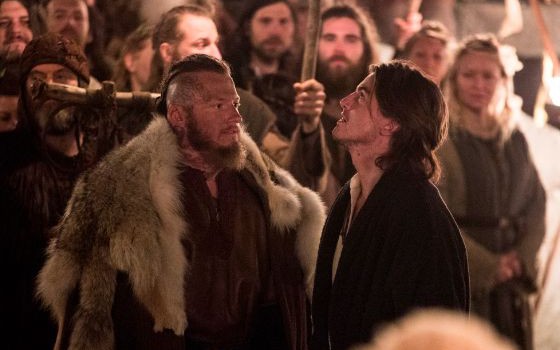 Josh Donaldson to make acting debut
TV viewers are about to find out if Toronto Blue Jays third-baseman Josh Donaldson is indeed a double-threat. The two-time All-Star will make his acting debut on Jan. 8 on History's Vikings as Hoskuld, a viking warrior of great skill. Donaldson shot his scenes in Ireland in the winter of 2016. The Canadian/Irish co-production, produced in association with Corus Entertainment, is one if History's biggest draws, with its fourth season averaging 437,100 viewers in the adult 25 to 54 demo and 859,200 in the 2+ demo. The Jays star also came off a winning season, with the team recently capping off their most-watched season in franchise history, according to Numeris numbers from Sportsnet, logging an average audience of 1.01 million viewers (up 12% from 2015).
Facebook dives into journalism
Facebook has announced the launch of the Facebook Journalism Project, which will see the social media behemoth pair with established news organizations to create new news products, storytelling formats and local news for users' Facebook feeds. It will also conduct a series of e-courses on its products and tools for journalists, and has promised to work with third-party organizations to promote news literacy and has paired with signatories of Poytner's International Fact Checking Code of Principles to better identify news hoaxes on the platform. Facebook has not yet announced which media organizations it will work with.
ICA ushers in new board
The Institute of Communication Agencies (ICA) has announced its 2017 board of directors. The board now includes Paul Reilly, COO of BBDO Toronto as its board chair; Penny Stevens, president of Media Experts as co-chair; Melanie Johnston, president, DDB; David Leonard, CEO, McCann; Jim Kabrajee, president and CEO, Marshall Fenn; Jill King, president, Sandbox Advertising Inc.; Andy Krupski, Chairman, The Hive Inc.; Rob Woyzbun, managing director, Vector Media; Greg Power, president, Weber Shandwick; Jeff Dack, president, Carat; Jason Chaney, CSO, Cossette; Matt Shoom-Kirsch, COO, Taxi; and Andrew Kirby, vice president, client services, Sapient. Scott Knox was appointed as president and CEO earlier in 2016.
Fido offers free Viceland to subscribers

Rogers Communications-owned Fido is providing its customers free mobile access to its Viceland channel in 2017. Customers will gain access to Viceland's original series on an on-demand basis after logging in with their phone number. Since its launch in early 2016, Viceland has set up shop in more than 50 countries.
Twitter goes live for U.S. inauguration
Twitter has partnered with PBS NewsHour to stream live coverage of the U.S. presidential inauguration on Jan. 20. From 11 a.m. to 5 p.m., PBS's special broadcast, anchored by managing editor Judy Woodruff, will be available globally on Twitter's desktop and mobile platforms. Twitter is also offering sponsorship packages to potential advertisers for the event. In recent years, the social media site has increasingly offered live-streaming to its users, particularly revolving around sports and politics.
Howie Mandel to star in two CTV specials
Canadian comedian Howie Mandel will headline the Howie Mandel All-Star Gala on Jan. 15 at 8 p.m. The special, filmed at Montreal's Just For Laughs Comedy Festival, will also feature stand-up performances from Russell Peters, Iliza Shlesinger and JB Smoove. Following his all-star gala, Mandel will also star in a new original one-hour special Howie Mendel: A Bell Let's Talk Day Special in support of the annual Bell Let's Talk Day. The special will see Mandel sit with The Social and Your Morning host Melissa Grelo to talk about his own experiences with mental illness including obsessive compulsive disorder.
Comedy shuffles The Beaverton
Comedy has shifted paired news program The Beaverton with late night pop-culture series Full Frontal with Samantha Bee on Wednesday nights. The Beaverton, which premiered on Nov. 9 in the 10:30 spot on Wednesday nights, is getting moved up slightly to 10 p.m., while the second season of Samantha Bee's Full Frontal will follow it at 10:30. Full Frontal aired on Mondays for its first season.