Canada gets first peek at YouTube's new sharing feature
A new chat feature, designed to "reduce friction" in sharing videos, will roll out in Canada first due to the country's high rate of mobile video sharing.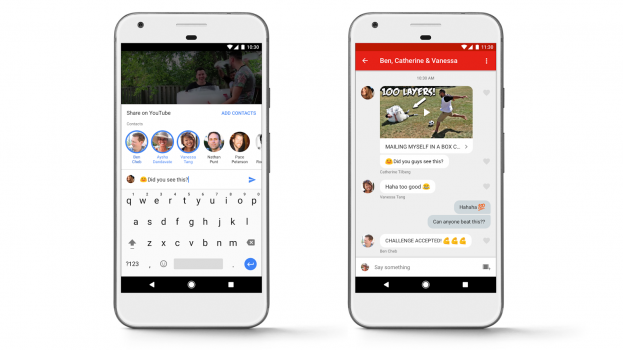 Google's research shows Canadians share YouTube videos on their mobile devices 15% more than the rest of the platform's global user base, so it decided Canada will be the testing ground for a new mobile upgrade.
The as-yet-unnamed feature, which will appear to iOS and Android users in the next app upgrade, allows users to chat with one another in-app and lets them share videos directly (rather than copying a link and sharing it in another messenger app such as iMessage or Facebook).
The company first announced the feature in May 2016. However, according to Nicole Bell, communications and public affairs at Google Canada, the upgrade had only rolled out to "Googlers" (staff) for testing. After a short trial period, she said the company chose Canada for its first round of roll-outs.
"The users are very engaged and love sharing in Canada," she told MiC.
Bell said the aim of the feature isn't necessarily to increase session lengths on the app but to "reduce friction" with users having to switch apps. "We know users can find it very irritating to switch apps and copy and paste links into another chat system."
While Bell would not speak to the timeline of the remaining roll-outs, she said the feature will be able to spread in a somewhat infectious manner. "As a Canadian, you can share a video with anyone in the world, not just other Canadians," she said. "And once you share it with them, the [chat] feature is now enabled for them."
Bell would not share information on the number of current YouTube users or average session length in Canada, however she cited information from eMarketer that said in the last four years, time spent viewing digital video was up 44% across the country. That growth is even more pronounced on mobile where video time was up 127% over the same time period.
According to a YouTube Canada blog post from September 2016, the number of hours Canadians spent watching YouTube daily on mobile and tablet rose 60% year-over-year between 2014 and 2015, and 75% of daily Canadian users visit YouTube twice or more per day.