Spotted! USS's mobile music tour
In an effort to draw more social media buzz, the band played a mini-tour out the side of a van.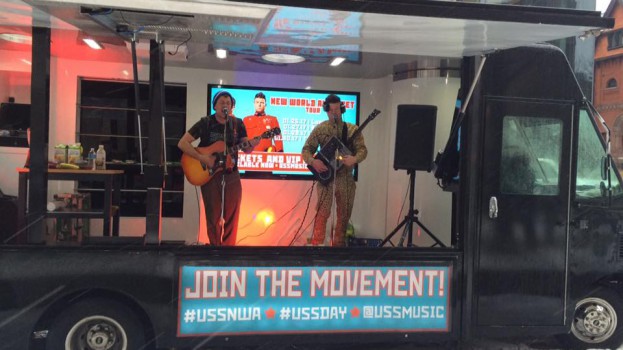 For most bands, driving around in a crowded van and playing impromptu shows at colleges may be a hallmark of their early, pre-discovery days. But for USS, which has been making music for more than a decade, a tour where they played out of the side of a van was the perfect way to drum up some buzz.
Despite playing together for more than 10 years, the band's label, it wasn't until it signed with label Coalation Music in 2011 that it developed a full media strategy. With most of its efforts concentrated on social media, the band recently partnered with experiential marketing agency Jam Van to embark on a tour that would create a good amount of social media buzz.
The band's two-day tour of the GTA, which featured stops at McMaster University, Mohawk College, Yonge-Dundas Square, Global Morning and eight other destinations, saw the band play in the open van while also offering student-appropriate giveaways of smoothies and ramen.
It wasn't actually the first time the band had done an impromptu tour — two years ago, they started an event called "USS Day" which saw them partner with Uber competitor Halo to do the same thing.
Band manager Liam Killeen said that the events were pulled off on a $500 budget. But now, with the band's rising star, the bigger budget allowed them to pair with Jam Van and offer something a little bigger and, he admitted, quirkier for the second USS Day.
"This year, instead of us just popping out of a van, playing a guitar and beat-boxing, [we thought] what if we popped out of a van and gave a full-blown show?"
While the band didn't work with any creative or media agencies, the tour was promoted by boosted Facebook posts (all buying done internally by the band's management team).
Killen said there were approximately ,500 visitors over the span of two days and 100,000 Jam Van impressions, with 3,198 Twitter mentions by 1,027 users. Overall from the various appearances and social media interactions, management estimated 15.3 million total impressions.
He said the idea of the van shows and reaching a college-aged audience served as a tribute to the band's humble beginnings, on top of crowd falling in USS's target age demographic.
But most importantly, he said, the stunt was about drumming up enthusiasm for the band and its new album, New World Alphabet (which dropped Jan. 13) and directing fans to their online profiles.
USS currently boasts more than 33,000 fans on Facebook, 13,000 on Twitter and 8,000 on Instagram.