Jeff Cole on mobile's creep factor and TV's football problem
The thought leader and head of USC Annenberg's Center for the Digital Future spoke at an annual Mindshare breakfast on what advertisers need to brace themselves for.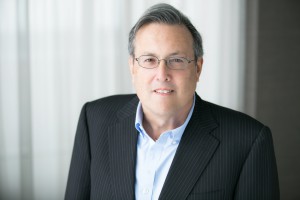 Jeff Cole thinks if there's anything that will sink TV, it isn't SVOD and YouTube — it's football.
The head of USC Annenberg's Center for the Digital Future, which conducts yearly research on changing technology and consumer trends, delivered some of its latest findings at an annual Mindshare breakfast this week, which invited the ad agency's employees to the table to hear from Cole (pictured left) and ask how it could benefit their clients.
The Center's research, which began as U.S. only, has expanded  has been following many of the same people throughout the 17 years that it has been conducting it, which Cole said allows it to get a better handle on how different demographics are evolving as time goes on.
The research presented at Mindshare featured a sample size of 1,800 North Americans (with the Center partnering with Ryerson University on the Canadian component). The data was gathered through questions asked in mixed-method surveys (online and phone).
While Cole's presentation to Mindshare employees touched on how the evolution of technology and media is influencing the verticals of the automotive, finance and sports sectors, when he and Mindshare's North American CEO Ernie Simon sat down with MiC following the talk, the two dove deeper into how the digital revolution was influencing advertisers trying to reach an audience.
They touched on what advertising techniques were considered "creepy" in the 90s that are now considered common courtesies, what they see in the future of SVOD and the various complexities of millennial audiences.
Here's what MiC took away:
If football goes down, so does TV
"Nobody watches crap anymore," said Cole, joking that many people will cite that quote from him without his usual follow-up. "What the full quote is, nobody watches what is crap to them."
He explained that people are now more choosy about their content, which makes a major difference in how it's consumed.
"The television I grew up with was television on a schedule," he said. "There was even an art and a science to scheduling. You put a big show like Friends at eight, you put a Seinfeld at nine, you put a new show in the middle, no one's going to change the channel. Now we watch the way we want, we stockpile in different ways."
He said networks have been slow to adapt, but they are coming along by posting ancillary content online on YouTube and Facebook, particularly late night shows like Saturday Night Live and Late Night With Jimmy Fallon.
"They're never gonna get their millennial audience to sit down and watch the show, and why not build your brand?"
He said that according to the Center's findings, for people under 30, only 20% of the television they watch is live, and the other 80% is recorded or streamed.
"Almost all" of that 20% is sports, he said, and the charge was dramatically led by NFL content in the U.S. However, he said, with professional football facing a potential decline in talent as head injuries rise, it puts broadcast television in a perilously precarious position.
"If football is in trouble, it will mean the collapse of broadcast television."
Audiences don't hate commercials as much as we think
As television faces an uncertain future, there's still the growing market for SVOD. Both Simon and Cole predicted that in the near future, services such as Netflix and Amazon Prime will begin advertising in some form, be it pre-roll or mid-roll.
Simon, (pictured right) said it might actually be a welcome change for viewers.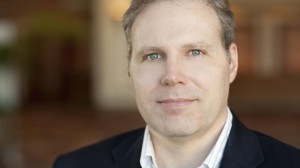 "People like to take in content with a burst and a break," he said, adding that "even with a book I feel like I need a bit of a break." Cole also asserted that the biggest complaint PBS used to get was that viewers couldn't get up to take a break because it didn't run commercials.
Both Cole and Simon agreed that viewers on all mediums aren't as opposed to ads as people think they are.
"Historically, even when I got into the industry, we all said, 'Everyone hates advertising, nobody wants to be advertised to,'" said Simon. "I don't think they hate advertising. They hate bad advertising."
Cole, citing data from the IAB, said that ad-blocking doesn't necessarily equal a hatred of ads. "What the IAB has found is that on digital and especially on phones, the reason people are blocking ads is not always because they won't want to see them, but because they're slowing down their bandwidth and they're being charged for the data," he said, adding that "other than a handful" people, few truly hate the presence of ads.
Simon added that despite consuming media almost constantly on digital and mobile, millennials have plenty of options to avoid ads, using ad blockers and features like incognito windows — but many choose not to.
"If millennials wanted to avoid every type of advertising they could, they could," he said. "There's no type of ad they can't skip through, even pre-roll if you know what blockers to use. They're smart about it."
Getting over the "creep factor" will change mobile forever
Even with big advances such as geo-targeting and geo-fencing, Cole said once the "creepiness factor" dies off — and he is certain it will — these mobile features will be seen as incredibly useful.
"The first time I called American Express in the early 1990s and they answered the phone, 'Hello, Mr. Cole, how can I help you?' I was freaked out," he said. "Once I understood it was caller ID, it became a nice courtesy."
He envisioned that scenario evolving to a customer walking in a supermarket. "You're walking and your phone pings you and says, 'Hey, we saw that last time you were here you bought this and this, here's a coupon.' First time, you're going to be creeped out."
Simon said that while some advertisers stereotype the millennial generation as being the most protective of their privacy, he thinks that because they grew up in the era of Facebook and Google, they have a more laid-back attitude.
"We're noticing that young people think, 'Privacy is dead, get over it,'" he said.