Sunwing Vacations buys the top: Media Monitors
The vacation company moved into the top spot in Toronto for the week of Jan. 16 to 22.
Sunwing Vacations moved up one spot on the Toronto radio charts to hit #1 for the week of Jan. 16 to 22, according to the latest Media Monitors report.
The vacation company swapped spots with OLG Slots and Casinos, which dropped to #2 for the week. Car dealers entered the middle of the list, with the Acura Dealer Association at #3 and Honda Dealer Association at #4.
Selloffvacations.com moved up to #5 from #7, closing out the top of the chart in Toronto for the week.
In Montreal it was CTV moving up the list, jumping to #1 from #30 last week. Bell Mobility also moved up, landing at #2 from #10.
Shopico dropped one, landing at #3, while Casino Montreal moved to #4 from #18 last week. The Chevrolet Dealer Association joined the list at #5, rounding out the top five in Montreal for the week.
Toronto:
By brand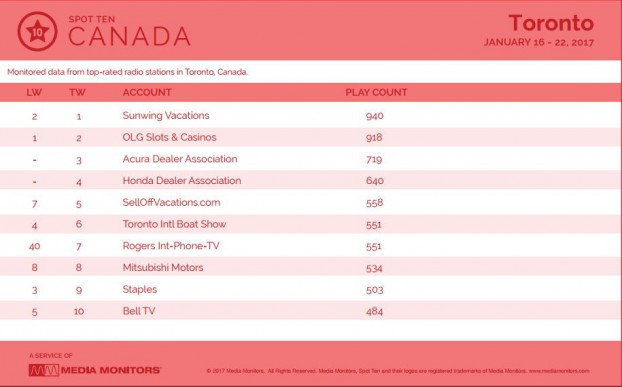 By category
Montreal:
By brand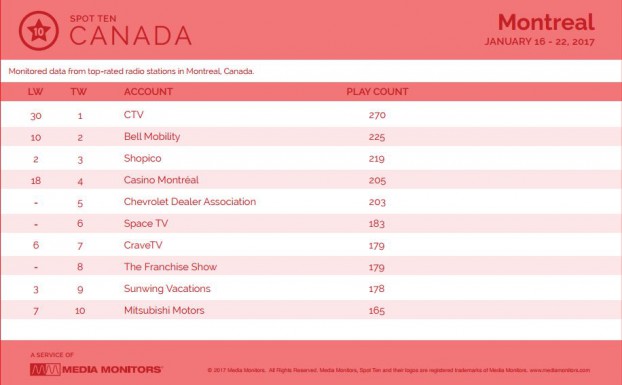 By category
Image: Shutterstock