Ed Greenspon on how the news industry can be saved
Public Policy Forum's report, The Shattered Mirror, included giving advertisers more incentive to place ads in Canadian media and removing the CBC from the digital advertising game.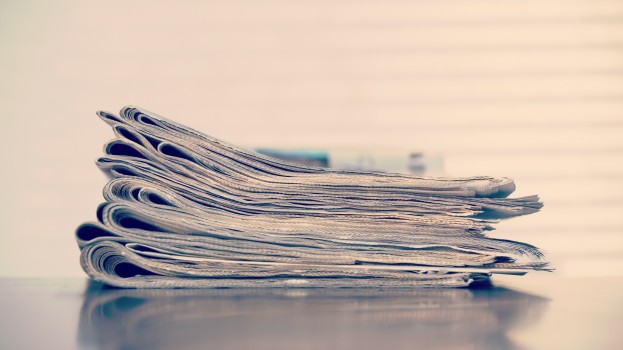 Conversations on the waning health of traditional media, the rise of fake news and the trouncing of print media by digital seem to be endless. In response, the Public Policy Forum (PPF) has laid out a series of recommendations in an effort to set out a better future for Canadian journalism.
The recommendations, which include amending a section of the Income Tax Act to bring in an additional $300 to $400 million of revenue, removing digital advertising from the CBC and creating a special "Future of Journalism and Democracy" (FJD) fund, were laid out in The Shattered Mirror, PPF's Jan. 26 Government of Canada-funded report on the state and future of the news and media industry.
The recommendations were gathered following a year of research, data analysis and virtual roundtables with both consumers and employees of Canadian media. While many centered around efforts to bring better journalistic coverage to smaller communities, most kept the omnipresent factor of digital media in mind.
Bringing in new revenue
The first recommendation of the report was to modernize Section 19 of the Income Tax Act. The section, which was first introduced in 1965 to not allow advertisers tax deductions on ads purchased in foreign newspapers or broadcasters, has not had the same rules applied to online advertising as of yet.
PPF's recommendations differ slightly from a proposal brought forth by the watchdog group Friends of Canadian Broadcasting earlier this week, which recommended that advertisers no longer be allowed to deduct advertising on non-Canadian websites as a business expense.
Edward Greenspon, president and CEO of PPF, told MiC that determining a digital media site's "nationality" is not black-and-white, so PPF instead based its recommendation on two criteria: that at least 75% of the company's editorial payroll and 75% of their eight highest-paid employees are Canadian individuals, or that at least five percent of the company's Canadian-generated revenue was spent on editorial options.
As per the report's recommendations, advertisers on digital media sites that did not qualify under these criteria would be subject to the 10% withholding tax.
"The withholding tax is actually less onerous on advertisers," said Greenspon, comparing it to the removal of tax deductions proposed by the Friends of Canadian Broadcasting.
Greenspon, whose 30-year career in media included seven years as the editor-in-chief of the Globe and Mail, said he had mixed expectations about how well it would go over with the advertising community, stating that they may agree with it on principle but dislike it from a business perspective.
"I'm sure that advertisers aren't going to be crazy about the idea in their lives as business people, and might be more open to the idea in their lives as citizens," he said.
The report estimated that this would result in an estimated $300 to $400 million per year, which it recommended applying to a new "Future of Journalism & Democracy" (FJD) fund.
Jason Kee, public policy and government relations counsel at Google Canada, told MiC that while this recommendation is "less punitive" than not allowing tax deductions, he said that the report needs to take into account that much ad buying in the digital space is done through intermediaries.
"If [advertisers] put money into Google or another advertising network, and they were to show up on another Canadian site, do they still have to pay the 10% withholding tax?" he asked.
Another recommendation involved extending GST/HST to all media companies not qualifying under the report's proposed new criteria under Section 19.
Besides the FJD fund, the report also recommends an amendment to Canada's charity laws to allow non-profit news organizations producing civic-funded journalism to qualify as recipients for support from charitable foundations.
Removing digital ads from the CBC

The report also called for the CBC to redefine its mandate by removing digital advertising, with an investment from the government of $25 million to compensate for the revenue loss that would come.
While some of the attendees at PPF's virtual roundtables called for a removal of advertising from the CBC altogether (and in late 2016, the CBC itself proposed an ad-free model, asking for an additional $400 million in funding to compensate for the lost ad-space), the report dismissed complaints that the CBC's status as a platform for advertisers gives it an unfair advantage considering the relatively low amount that the CBC brought in with digital advertising. It argued that the CBC should remove digital advertising because it puts the pubcaster in a position where it drops the quality of news in order to compete for visitors.
"We're not buying into the argument that if the CBC got out of digital advertising that it would therefore benefit the newspaper industry," said Greenspon, stating that it was more about changing the "internal" focus at the CBC.
"Our hopes are that we remove any kind of distraction or inducement toward lower quality journalism for more eyeballs and leave in place CBC's inventive to do serious journalism," he said.
The CBC responded saying that it agreed with the recommendation, but that it was only a "half-measure" in a statement issued shortly after the report went public.
"Removing only digital advertising would mean CBC/Radio-Canada would still be a competitor for advertising revenue on other platforms which would limit its ability to partner with other organizations," the statement read. It added that removing digital advertising would also adversely affect its TV ad revenue since many advertising packages are sold in bundles.
PPF also recommended that the CBC make its content available through a Creative Commons license to create a more "open source" approach to local journalism. CBC said the idea needs to be further studied, "particularly given the growing concern over the accuracy and behaviour of some online sites."
Helping smaller organizations
Many of the other recommendations focused on empowering smaller news organizations, including those in rural areas, Indigenous communities and smaller towns.
This included creating an open-source news service through the Canadian Press known as CP-Local. Funding for this would come directly from the proposed Future of Journalism and Democracy fund.
These recommendations were put in place in an effort to "supplement waning local and regional coverage of civic-function news."
The past year has seen more local newspapers ceasing operations in cities such as Guelph, Nanaimo and Rainy River.
It's a fact, said Greenspon, that "we are seeing less and less local news."
He said advertising in small community newspapers had managed to stay steady in the years immediately following the 2008 recession, but within several years PPF noticed the advertising decline caught up with the major national dailies. "We have numbers to suggest that 225 community newspapers have closed in the last six years."
The proposed CP-Local body would ideally fill that gap, according to the report. PPF worked with CP to propose draft a plan that would see the hiring of 60 to 80 journalists to cover matters related to courts, legislatures and city halls. Combined with a separate management team from the Canadian Press's main operations, CP and PPF estimated that it would cost $8 to $10 million per year, which would come directly from the FJD fund.
Greenspon said he doubted the community papers could survive without this.
"Without some kind of public policy, we're going to continue to see lots of communities that go without coverage of their city halls and civic affairs."
Other recommendations in this area included establishing a legal advisory service for smaller news organizations to have access to legal counsel when writing investigative journalism, new service through the Aboriginal Peoples Television Network (APTN), dubbed APTN-Local, which sponsor 60 to 80 Indigenous journalists across Canada and establishing a centre for ongoing research into Canada's media habits, preferences and attitudes, as well as tracking and challenging fake news.
Image courtesy of Shutterstock