Postmedia's CFO stepping down next month
Doug Lamb has been with Postmedia since its inception in 2010.
Postmedia's CFO Doug Lamb is set to leave the company at the end of February.
Lamb has been with Postmedia since its inception in 2010, working at its predecessor Canwest Mediaworks Inc. since 2005. He has also held roles with Metroland (Torstar), Hollinger International and Southam Inc.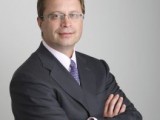 A search is currently on to find Lamb's replacement, according to a release from Postmedia. In the interim period, the company's financial operations will be handled by the corporate finance team under the guidance of the Postmedia executive team.
As at most newspapers, revenues have been consistently sliding downward at Postmedia, with the most recent quarter down 14.4%. Postmedia has responded in part by cutting costs, including current goals of reaching a 20% drop in staffing costs. Further layoffs were announced to unions this week, with nine cuts coming to staff at the Montreal Gazette, six at the Ottawa Citizen and another six at the Windsor Star, as confirmed by a Postmedia spokesperson.

Postmedia has also come under fire for continuing to issue large retention bonuses to its top executives in the face of continuing financial turbulence and staff cuts. A total of $2.3 million in bonuses was awarded to executives in late 2016, with Lamb getting a reported $450,000.