Car2Go changes media strategy for Mercedes launch
As part of the car-sharing service's most extensive media plan yet, it's paired with Toronto influencer Unbox Therapy for its first foray into branded content.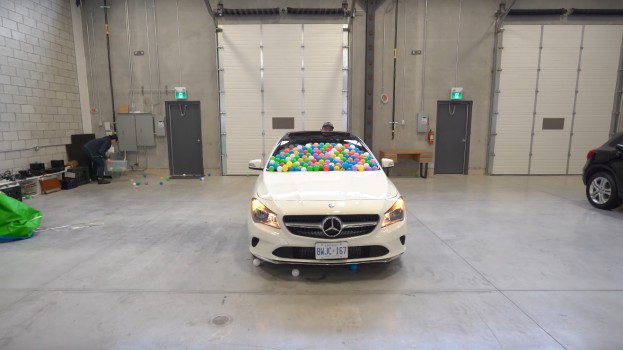 Car2Go has added a new type of vehicle to its fleet — and to celebrate, it's also added a new media strategy.
The Austin-based car-sharing company officially rolled out its Mercedes-Benz fleet in the Canadian market on Jan. 30. The service, which previously offered two-door Smart Fortwos, will now give members the option of Mercedes-Benz CLAs and GLAs for $0.45 per minute (the Fortwos are available for $0.39 per minute).
The new vehicles are being promoted with Car2Go's most expensive marketing campaign to date, one that includes branded content for the first time in the company's history, said Amber Quist, CMO, Car2Go.
Quist said since its founding in 2008, Car2Go's marketing efforts have been more sporadic and focused mostly on short campaigns in the service's new cities, with the bulk of its paid media done through Facebook.
The company's campaign efforts for 2017 will feature OOH, radio, digital, social and influencer marketing, with campaigns lasting four to eight weeks depending on the city.
For its first branded content efforts, the company paired with one of Canada's top YouTubers, Lewis Hilsenteger, whose channel Unbox Therapy boasts 7.2 million subscribers. Hilsenteger's branded video asks viewers how many small plastic balls they think are in one of Car2Go's new Benzes. Car2Go members can guess in the YouTube comments and a winner will be selected at random from the correct answers in one week to win $1,000 in driving credits for the service.
In the eight hours following its launch, the video had been viewed 165,000 times.
The partnership with Mercedes, said Quist, is an opportunity to tap Car2Go's aging membership base. While members normally skew from the late 20s to late 30s, she said adding a high-end four-door vehicle will help Car2Go's service "grow up" along with its members.
She said it also gives Mercedes more brand exposure to potential new drivers who aren't yet in the stage of checking out cars at dealerships.
"This allows people to test-drive a Mercedes without owning one," she said.
In the coming weeks and months, Car2Go will roll out other pieces of branded and influencer content from some of its highest profile members, including Toronto-based radio host Lana Gay, Calgary fashion blogger Ania B. and Vancouver travel blogger Kiara Schwartz.
Car2Go currently has 320,000 members in Canada. Its agency partners on the new campaign included New York-based SwellShark on the media buy, High Road on PR and Austin-based Bakery on creative.