Digital ad revenue, subscribers up for La Presse+
The digital newspaper's president Pierre-Elliott Levasseur on recent growth and on-going challenges.
La Presse+ ended 2016 on a high note in terms of readership numbers and ad revenue, and Pierre-Elliott Levasseur, president, La Presse is optimistic that numbers will continue to climb this year.
The digital newspaper saw an increase in readership of 40,000 tablet users in 2016, for a jump of 18.7%. Over the holiday period alone the application gained 14,100 new readers. Currently, La Presse+ is read on 420,000 unique tablets per week and 272,000 per day, according to Levasseur.
The daily unique tablet reader numbers spiked to their highest levels yet following the U.S. presidential election, with more than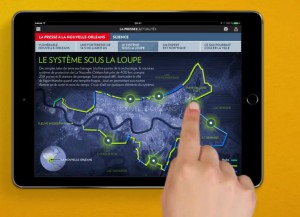 300,000 people reading the Nov. 9, 2016 edition.
Time spent on the app has remained steady at an average of 40 minutes a day on weekdays, 52 minutes on Saturday and 50 minutes on Sunday.
La Presse+ is now one year out from La Presse's decision to stop printing its weekday paper and migrate readers to the daily app, and Levasseur said that nearly all advertising has also been transferred to the new platform. He added that digital ad revenue is up on La Presse+ year-over-year, but as a private company wouldn't disclose specific figures.
Getting readers to make a habit out of consuming the tablet edition on a daily basis hasn't required the same work as migrating some advertisers, said Levasseur. He said that the company continues to work on promoting the benefits of La Presse+ to clients and adds that ad sales have been more successful in Montreal than in Toronto where the title isn't as well known.
La Presse+ has seen increased advertising from categories like CPG, beauty, groceries and renovation/hardware that weren't traditionally buying into the print version as often, he said. However, automotive and finance remain the two biggest buyers.