Chatter, speed and pricey influencers: Where social media and millennials collide
At a FFWD Ad Week panel moderated by Twitter Canada's Alyson Gausby, brands discussed the biggest challenges with reaching the elusive generation on social.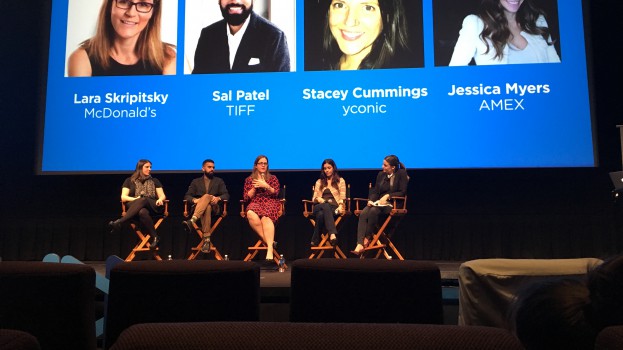 If it feels like everyone in the marketing, advertising and media industries has been talking about millennials (and how to reach them) for years, it's probably because they are, and FFWD Ad Week has been no exception.
But one of day three's panels, moderated by Twitter Canada's head of research Alyson Gausby, and sat in on by marketing leads from McDonald's, TIFF, online student assistance company Yconic and Amex, revealed just why everyone is still talking about millennials: because they're still tough to figure out.
The session, titled "Moving at the Speed of Millennials," opened with a short presentation of research by Twitter and DB5 Research, conducted in the fall of 2016. The study looked into how millennials use Twitter and other social networks to interact with brands, celebrities and each other — and what brands could learn about reaching the generation most commonly associated with Netflix and selfies.
Joining Gausby to talk about their own engagements with millennials through social media were Lara Skripitsky, senior director and head of digital at McDonald's Canada, Sal Patel, lead digital engagement producer at TIFF, Jessica Myers-Bendavid, manager of social media strategy at Amex and Stacey Cummings, marketing director at Yconic.
Despite the panel consisting of a diverse range of roles from various industries, many similar themes began to emerge as concerns and challenges — as well as triumphs — throughout the hour. For many of the companies represented on the stage, 2017 represents a time when digital and social marketing spends are no longer separated from non-digital spending — and a time when brands more pressured to be "always on."
On top of that, despite study after study on millennial habits and a wealth of analytics coming from the platforms themselves, most of the panelists reported feeling overwhelmed with what Skripitsky described as "an exhaust of social data," and all panelists shared that they were struggling to turn that data into action.
Here were some of the biggest themes that emerged from the talk.
Knowing when to stay silent
For many brands, being social means a chance to attach themselves to culturally relevant things, with most big cultural conversations occurring on social media — according to Twitter's research, 41% of millennials Tweet about their political or social opinions, and 40% Tweet about current events.
Patel said because of TIFF's cultural connection, there are more opportunities to weigh in on big issues. For example, he said, TIFF used its original social content hub (which it established in spring 2016) to create a panel led by local artists and writers on racial representation in film to promote the release of the film Moonlight. The panel was then distributed on social. He added that while being part of relevant conversations is helpful, it's a tough balance to strike between opportunity and opportunism.
For Skripitsky, sometimes the best one can do is to not bother trying to be heard over the chatter.
"Pick and choose the areas where you feel you have to be relevant," she said, adding that attaching a brand to massive celebrity or pop culture conversations aren't always necessary and can sometimes be risky. She noted that McDonald's Canada chose to be silent in the social space during Bell's annual Let's Talk Day, noting that recognizing when a brand isn't part of a conversation can be more valuable to socially aware audiences.
Instead, Skripitsky said, McDonald's has chosen to create and boost more of its shareable content around events that it knows are more relevant to its audience, like its recent announcement of all-day breakfast coming to Canada. A pinned Tweet with a gif announcing the news was Re-Tweeted more than 3,400 times and received 5,900 likes, while its Facebook post was viewed 33,000 times with 18,000 likes and 7,600 shares.
To influence or not to influence?
It's easy to think that one of the easiest ways to reach millennials is to pair with an online influencer. But Skripitsky noted that the generation's "A-list" was ever-evolving, and the spokespeople that were once thought to be an efficient use of ad dollars are now some of the most expensive.
"To do a social campaign with Lilly Singh would cost more than a high-value national commercial," Skripitsky told the crowd. Singh, a Toronto-based YouTuber, was named as the second-highest earning YouTuber in the world, pulling in an estimated $7.5 million last year according to Forbes.
But for Myers-Bendavid, influencers are worth it when trying to reach millennials, whom she said already aren't as likely to engage with financial institutions in a social setting.
"We like to be able to show what [a wealthy] lifestyle affords," she said. "Working with influencers to tell stories helps bring the brand to life." Amex Canada's previous influencer marketing campaigns included a 2015 campaign, My Travel Style, featuring Canadian Olympian Adam van Koeverden and fashion blogger Marcus Troy. The social video campaign resulted in a 400% increase in acquisition rates on Facebook during the period it was in market compared to the previous quarter.
Patel said TIFF doesn't pay to hire influencers as spokespeople but instead invites them to become producing partners, giving them more control over the content, using the Moonlight panel as an example. "It breathed life into this film that had otherwise run its course in terms of a theatrical release."
Being one-on-one (kind of)
According to Twitter's research, 33% of millennial Twitter users that interact with brands do so to talk to customer service, 30% use it to gather information about products, 27% to get price information and 26% do so to participate in conversation.
Skripitsky said for McDonald's, it has no choice but to constantly monitor and to respond.
"The idea of a mass message that goes out to an entire population, those days are gone," she said.
Patel agreed that response rate was one of TIFF's biggest concerns with social as its strategy continued to evolve. However, he said that engaging with fans one-on-one was also something it tried to do whenever possible.
But for Yconic, Cummings said that goal isn't reasonable.
Rather than focusing on individualized one-on-one engagement, she said the company's social communication strategy is centered around semi-tailored conversation.
"It all goes back to data — what you know about your audience," she said. "We deliver an approach that I would call customized but not individualized. We have about 10 different personas of people that we continually talk to."