How social "ate media" in 2016
Yahoo's Yannis Dosinos on how social is trouncing news, why gaming can't catch a break and the future of the phablet.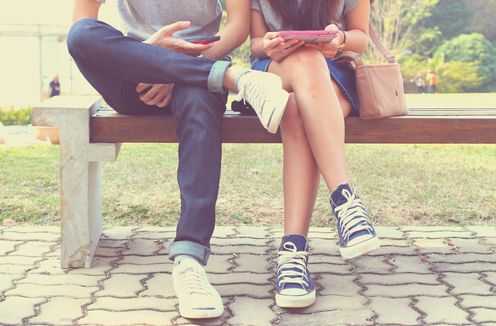 The year 2016 was deemed by Yahoo's VP of platform and exchange Yannis Dosios as "the year social ate media."
"There is only so much time in the day, meaning minutes spent on social and messaging apps are minutes not spent in other app categories like news," he said on day four of FFWD Ad Week 2017 as he presented a collection of Canadian and global trends in apps and mobile habits gathered from Yahoo's Flurry Analytics tool. Flurry is used by 4,200 Canadian companies and installed on 14,500 apps across 38.6 million devices, and measures seven billion sessions per year.
In terms of time spent, app usage in general grew 74% year-over-year in Canada for the 12-month period ending December 2016, according to Yahoo's data. And while time spent on messaging in social apps ruled both in Canada and globally, the biggest driver of growth is the same vertical keeping linear and TV alive and well: sports. In terms of time spent, sport app usage grew by 172% year-over-year (social and messaging apps grew by 98%).
"It didn't hurt that Canada's largest city, Toronto, had an incredible sports season with both the Blue Jays and Raptors making the playoffs," said Dosinos.
Among the categories with below-average growth in Canada last year (calculated at 72%) were music, media and entertainment apps (27%) and news and magazines (1%). Game and personalization apps (such as emoji keyboards) were the only two categories that lost ground, at a 3% and 18% loss respectively. However, Dosinos noted, this could possibly be attributed to the fact that most operating systems now include personalization features as standard applications or in-app features.
As for games, Dosinos said that the decrease in time spent correlated with the increase in gaming revenue reported by Apple's app store. "Rather than play through obstacles, users are just paying their way through games."
He said the gaming industry is also subject to flash-in-the-pan trends, and hits such as Pokémon GO proved to lack the sticky staying power of social and messaging apps.
Social media and sharing apps — which Yahoo counts among the same vertical, thanks in large part to standalone hybrid apps like Messenger and Snapchat — drove the most mobile usage outside of Canada as well in 2016. Of the five hours a day the average global mobile consumer spends on their smartphone, two of those hours were spent on social and messaging apps.
Dosinos said apps that rely on live data to create content have been the most successful, including business and finance apps (which grew 43% globally and 84% in Canada) and sports apps.
Shopping applications saw 17 billion sessions in 2016, with a growth of 39% in Canada (compared to 31% globally).
In hardware trends, phablets saw a 26% year-over-year uptick in adoption. Small tablets decreased to 4% from 7% and full-sized tablets remained the same at 2%."Phablets are ideal for social sharing and consuming media," Dosinos said. In terms of device distribution, small phones now represent 1% of the Canadian market (flat from 2015), medium phones represent 38% (down from 56% last year), while phablets now have the lion share at 49% (23% in 2015).
Image: Shutterstock