GroupM's Rob Norman on programmatic TV obstacles and the live video conundrum
The agency has previewed its annual Interaction report, which indicates that despite media buzz, the jury is still out on live video.
Is live video overrated? Why are audio strategies going silent? Will there ever be a consensus on programmatic TV?
Those are some of the topics explored in GroupM's annual Interaction report. On Feb. 6, the global agency released a preview of Interaction, which takes a broad look at global media trends. The 66-page preview, authored by GroupM chief digital officer Rob Norman, summarized and analyzed some of the findings of the full report (which will be released next month with more data broken down by geographic market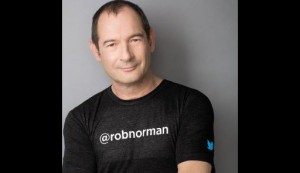 ).
MiC caught up with Norman following the release to discuss some of the issues outlined in the report that most pertained to the Canadian market.
Live digital video: proceed with caution
The media industry has been filled with chatter about live digital video for some time now — in the last two years, Facebook has brought its Facebook Live feature to all users worldwide, YouTube introduced live streaming to its mobile app and Instagram added live (and instantly disappearing) videos to its Stories. The report also pointed to Snapchat, which allows users to post direct-to-app, unedited photo and video updates which disappear after 24 hours, as a unique variation on the live video concept.
And it's seemingly been embraced as a legitimate form of media — brands such as Sport Chek and Nespresso have hosted branded Facebook Live content, while it's also been used as a companion promotional tool to linear series such as CBC's Workin' Moms. Influencers, such as Canadian trivia vlogger Matt Santoro and comedian Lilly Singh, have also taken to live-streaming platforms such as Facebook Live and Periscope to create real-time content.
But with all the excitement, it might be time to pump the breaks on live video just slightly. For one thing, the report found that the format of videos in social feeds (usually auto-played with the sound off) creates problems for advertisers. Citing data from Group M's global agencies, it suggested that for every 20 video ads served in news feeds, three are watched for three seconds or more and just one is watched for 10 seconds or more.
There's also a conundrum with live content when it comes to user-generated content (UGC). On one hand, UGC takes away from some of the vast costs associated with traditional live content like sports and news. "The monetization model for live has always come at a substantial cost on the supply side of the programming," he said.
And, he said, UGC gives viewers "a shared experience, and you can achieve the monetization of live without the cost of the live content. From a business point of view, sounds like a great idea."
But just how much of live video is brand-safe?
"[There are] risks to the advertiser on the UGC side," he said. "The vast majority of it is actually not necessarily something you'd want to run advertising on." He pointed out to the recent high-profile kidnapping in Chicago which had elements streamed on Facebook Live, and said that the extensive media coverage of the event may make the industry a bit more cautious when it comes to diving into user-generated live video.
In the meantime, said Norman, the issues around UGC puts digital media back in the same position as before, having to pay to acquire higher-quality and brand-safe content. "That's why Twitter is spending all this money acquiring live news and sports," he said.
However, he said, live video can still benefit the platforms more than the brand associated with the videos, due to the "sticky" nature of live.
There needs to be more audio strategy

With all the talk of live-streaming and digital, Norman said, talk of audio strategy has become, ironically, silent.
"You ask anyone about their mobile strategy, their data strategy, you'll get some kind of answer," he said. "You ask someone their audio strategy, you'll hear nothing. There is a multi-generational creative drought in audio advertising."
The irony, he said, is that the new wave of digital audio streamers carry with them a great deal of data and can bring far more opportunities for advertisers looking to connect to more specific demographics.
The report said that Spotify leads the market with 100 million global users (as of June 2016), 40 million being paid subscribers. This is more than double that of Apple Music and specifically ahead of Pandora. Spotify's revenue is approximately $2 billion from subscribers and $300 million from advertisers. IHeartMedia, owner of the iHeartRadio service (which partnered with Bell Media on its Canadian launch) generates about $5 billion worldwide in total revenue, mostly dominated by its network of FM radio stations and live events.
"What I'm hoping is that services like Spotify and Pandora, because of the potential they have, will encourage something of a creative renaissance in audio," he said.
Pumping the breaks on programmatic TV
The automated buying and trading of ad inventory has been a mainstay in digital media for some years now, and many in Canada's media industry see a future in programmatic television.
But according to Norman, that doesn't mean that programmatic television has not grown on the same trajectory as it has in the digital sphere.
"There is a programmatic video market now, but what there isn't really is a programmatic market in television live content," he said. While laws and infrastructure differ from country to country, Norman said, most markets are generally facing challenges with the implementation of programmatic television.
(Last week, Corus' Spencer Charters also cited infrastructure and long-established practices as big roadblocks to the implementation of programmatic TV).
But, he said, it would be wrong to assume that television planning has not been radically changed by the application of data. He said the increased adoption of OTT services, connected TV devices and smart TV sets can be used to gather more data on users and viewer habits. And, he said, with the OTT market likely only growing, this will only create more data opportunities for advertisers. (While there has been much said about the trend of cord-cutting in favour of services like Netflix, many Canadian households still subscribe to both cable and OTT services, according to a recent study from MTM).
"There will be a programmatic market eventually and not just in TV," he said. "With bandwidth getting stronger and faster, anything that can be programmatic will be."