Rogers Radio brings on veteran Vancouver hosts
Following an unexpected split from Pattison-owned The Peak, Sonia Sidhu and Kevin Lim (along with some of their familiar formats and games) will join the morning crew at Kiss FM as Rogers aims to build listener loyalty.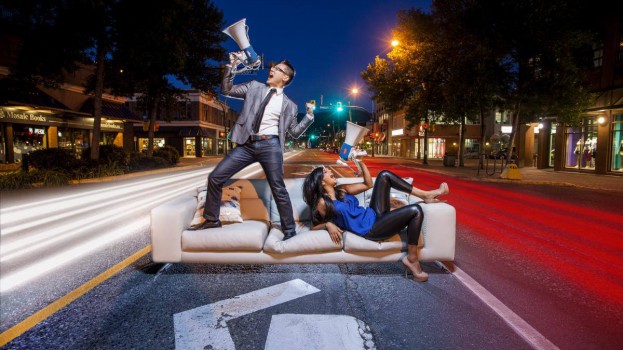 Starting Valentine's Day, listeners of Kiss Radio in Vancouver will  hear two new(-ish) voices.
Kevin Lim and Sonia Sidhu will step into the host chairs of the Rogers Radio-owned station's breakfast show from 6 a.m. to 10 a.m. The pair are no stranger to airwaves in the city, having co-hosted morning shows in the Vancouver area since 2011 — first with Bell Media's 99.9 Sun FM and and then on 102.7 The Peak, owned by the Jim Pattison Broadcast Group. They were named Broadcast Performers of the Year by the BC Association of Broadcasters in 2014.
Lim and Sidhu, who met as classmates in the BCIT broadcasting program in 2002, announced on social media in August that they had been let go from The Peak as the station looked to move in a "new direction." They described the move as "unexpected."
However, Julie Adam, SVP of Rogers Radio, told MiC that Lim and Sidhu's long-established chemistry — and audience — were what Rogers Radio was looking for.
"The interesting part about radio is the humanity behind it," said Adam, who added that Kiss's programming has always been about mass appeal and attracting a wide age demo (skewing slightly female), something the company is not looking to change. "We're looking to build loyalty to the station, and having two hosts with that chemistry is really conducive to that."
She said with the pair's pre-established relationship, Rogers looked to plan a show "around" the two, bringing over some of the segments and games from Lim and Sidhu's days with The Peak such as "Fist Pump Fridays," "First World Problems," "Sexy Slow Jams" and "The Not-So-Secret Word."
Prior to Lim and Sidhu's hiring, the show had been without a permanent host since January following the departure of Kid Carson in January. The show has been hosted by afternoon host Ara Andonian in the interim. Rogers did not provide ratings of the show when requested, however Adam said Kiss is the #4 station for adults 25 to 54 in the Vancouver area.