Molson, NHL and Sportsnet partner on VR program
The beer company has sponsored a series of six hockey games that will be broadcast in VR.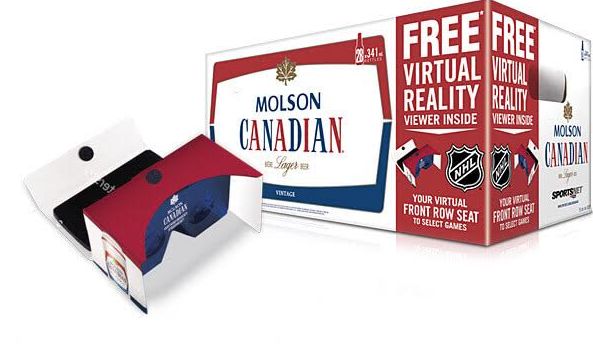 Molson Canadian has partnered with Sportsnet and the NHL to broadcast a series of six Saturday night games in virtual reality.
The deal, which was executed through Molson's media agency MEC, marks the first time that NHL games will be broadcast in VR.
Fans will be able to watch the VR feed on Sportsnet.ca and the Sportsnet app using special VR viewfinders available in marked cases of Molson Canadian. The VR feed will be produced using three special cameras and will be compiled in order to make the viewers feel like they're live at the arena.
Wes Wolch, VP of content and connection planning, MEC, said the agency's team has been pushing the idea of using VR with Molson for a couple of years, but adds he's glad that it took some time to come together because the technology is a higher quality now and also more common.
He said the idea behind the VR partnership was to do something that reached more consumers than other special executions like Molson's rooftop rink in Toronto. To that end, the program, which begins on Feb. 18 with a game between the Calgary Flames and Vancouver Canucks, will feature each of the NHL's Canadian teams through the six-week run.
"It dawned on us that we have the NHL rights and Molson Canadian is one of the most readily available products in the country," he said. "So we had the ability to bring the technology to the masses. The whole concept started with the ability to give every Canadian a front row seat to an NHL game, no matter where they were."
The VR games will be promoted with a media mix that includes TV spots, digital ads and in-store signage, said Wolch. While the program is targeting all Canadians of legal drinking age, Wolch said there is a special interest in reaching younger demos that are just entering the marketplace.
"What we really want to do is give them an aspect of the beer and brand in a way that they haven't seen before," he said. "Molson and hockey have been hand-in-hand for decades, so it made sense for us to take this next step together."