Juno Awards lay down a new track with VIA Rail
The music awards will also host the new Juno Cup, a celebrity benefit hockey game for music education charity MusiCounts.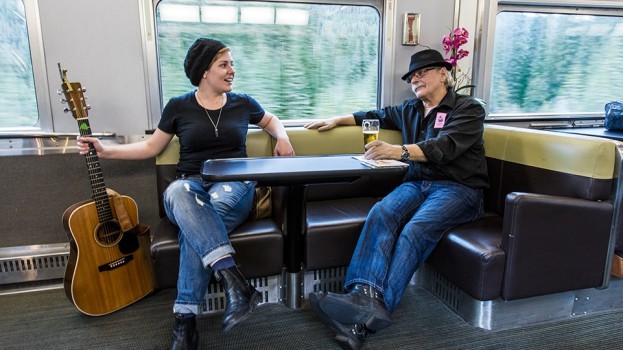 You've heard of a party bus, but on March 31st, Juno nominees and a few select members of the public will be rolling into Ottawa for the 2017 ceremony on a specially branded party train.
The Juno Awards have brought on brand partner VIA Rail to host star-studded train rides from Montreal and Toronto to Ottawa two days before the ceremony. The Juno Awards have previously partnered with VIA Rail for a similar trips, once in 2003 and again in 2012. However, this year with the awards taking place in Ottawa, Junos director of marketing and brand partnership Andres Mendoza said the two decided to take the deal to the next level.
"This year it's really going to be a full event that we're producing," he told MiC. While the trip has previously had beverage sponsors, this year there will also be experiential activations provided by new sponsor Metro Ontario, which will bring in professional chefs for a food demonstration and Virgin Mobile, which will host an exclusive VIP members lounge. Jackson-Triggs and Steam Whistle will be the event's beverage sponsors.
Aside from nominees and industry members, the train will also be open to Virgin Mobile members and contest winners. The Junos will be rolling out several contests through Bell Media's radio properties in the coming weeks, with entry details to be announced at a later date.
Other sponsors for this year's Junos include returning partner TD, which will once again present the Juno Fan Choice Award and host a TD Green Room for nominees and industry members. This year it will also join in as the sponsor of the Juno Cup, a celebrity benefit hockey game for music education charity MusiCounts. The Juno Cup will take place March 31 in Ottawa, with celebrity guests to be announced soon.
Also integrating in support of MusiCounts is returning partner Google Play Music. For the second year in a row, Google Play Music will publish exclusive audio performances from the awards, and this year will donate $1 for each new subscriber to the charity.
On top of its activation on the train, Canadian winemaker Jackson-Triggs will host a red carpet lounge at the event and will create a branded content series, Wine and Music, through Juno's original video content platform Juno TV.

The Junos recently paired with new partner Casper (the events first ever sleep partner), which gifted all nominees with a Casper pillow at the award nominations Feb. 7 and will gift mattresses to all of the winners. It will also host viewing parties across the night of the event in Toronto, Montreal and Vancouver. Toronto-based clothing manufacturer Peace Collective, known for its "Toronto Vs. Everybody" designs, has also signed on as the event's official merchandise partner with a special collection of "Canada Built" T-shirts available online (a portion of sales will also go to MusicCounts).
Throughout the awards weekend, the Junos will also play host the Canadian Sponsorship Forum to provide media industry professionals with insights into sponsorship trends. Mendoza said compared to sports, sponsorship in music is considerably lower in Canada, and emphasized the importance of bringing brands into the space.
According to Mendoza, most of the brand integrations for the Junos were done direct with the brand, save for TD which worked with Starcom on media, Diamond Marketing for the MusiCounts integration and Unison on digital.
The Juno Awards will air on CTV April 2. Last year's broadcast saw an average audience of 1.4 million viewers, up 2% from 2015.
Image: VIA Rail