Growth in mobile, geotargeting fuels updates for Addictive Mobility
CEO Naveed Ahmed estimates that demand for geotargeting in campaigns has quadrupled since the launch of the company's self-service platform in 2015.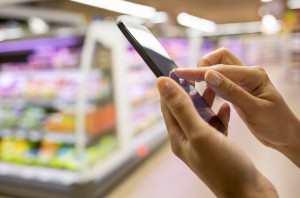 Mobile ad tech solutions provider Addictive Mobility has launched the newest version of its self-service programmatic trading platform, EngageFront, which will now include visualization of points of interest (POI) based on geographic data.
CEO Naveed Ahmad told MiC the update has come following significant growth not only in EngageFronts' client base — which increased by 257% in 2016 — but in the demand for geo-targeting. Ahmad estimated that demand for more geographic-specific data in campaigns has tripled if not quadrupled in the two years since the initial launch of the EngageFront platform.
"Advertisers now are starting to understand that the richest forms of data are geo-related in some way," said Ahmad. "Geo-targeting, geo-fencing, everything mobile has some sort of geo-feature. That's the nature of mobile."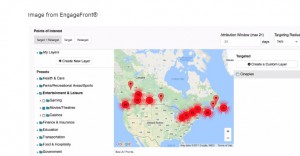 Users of the platform can now use a custom map to determine where particular verticals might play strongly — for example, they might find 50 POIs for gaming and casinos in southwestern Ontario, or 24 POIs for food and hospitality in east Vancouver. The users can also add their custom POIs to the map instantly. This, said Ahmed, will allow for more precise geo-fencing strategies.
Addictive Mobility now logs 175,000 POIs and 500 geo-layers (criteria) for location targeting in its database, which Ahmad said was a key driver in launching this new feature.
Creating a platform that was very robust for geographic offerings should be the overall future for mobile and programmatic ad buying, said Ahmad. "People are beginning to say, 'look, cross-platform is great, but mobile has so many different nuances that you can't find in desktop.' And it's clear from the growth in digital, it's almost all mobile."
Indeed, both mobile consumption and buying is expected to continue growing in the coming years. A study from eMarketer last November predicted that by 2018, Canadian adults will spend an average of nine hours and 52 minutes on mobile per day (up from 9:45 in 2016), while time spent on desktop will shrink accordingly. Within two years, eMarketer predicts that mobile will represent 29.2% share of time spent in Canada, and 27.3% share of ad spend.
Addictive's self-serve platform reaches clients through Dentsu Aegis' progrmmatic buying platform Amnet, which uses EngageFront as its trading desk software.
Image courtesy of Shutterstock