Q107 gets its own Valentyne
The Corus-owned radio station has recruited former TV anchor Jennifer Valentyne to its morning show in an effort to attract a more gender-balanced audience.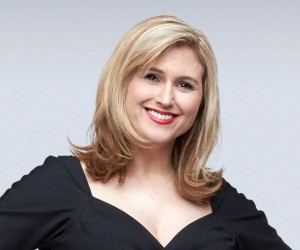 Veteran broadcast host Jennifer Valentyne can now be found on a different set of airwaves. Beginning Feb. 14, Valentyne is the new co-host of John Derringer, Ryan Parker and John Garbutt on Toronto's Derringer in the Morning weekdays from 6 a.m. to 10 a.m.
The show is also getting a new title to reflect the adding of Valentyne to the ensemble — it will henceforth be known as Derringer in the Morning with Jennifer Valentyne.
Q107 senior program manager Blair Bartrem said the adding and showcasing of Valentyne was part of a key strategy to bring a female perspective to the show — and bring back some female audience share that it's lost over the years.
"We looked at it as adding Elaine to our Seinfeld," said Bartrem.
The show has been without a female anchor for nearly two years since the departure of Maureen Holloway, who co-hosted the show for 15 years. Holloway recently replaced Erin Davis as the co-host of Rogers Media's CHFI's weekday morning show.
During the time since Holloway's departure, Bartrem said, the gap between male and female listeners has widened. Two years prior, said Bartrem, the balance of the audience was approximately 60/40 split. Now, he said, it's closer to 78% male. He added that the station is #1 in Toronto with men 25 to 54 and sits at #5 with adults 25 to 54.
While he said the material of the three hosts was never intentionally alienating to women, he understands why female listeners would gravitate to more gender-balanced shows.
"It's like when you have a few guys throwing a party and they're all standing around a punch bowl and some women come by, they take a look inside and say, 'yeah, we'll come back when there's a few more women.'"
Valentyne, who is mainly known as a TV personality for her 24-year run on City's Breakfast Television (which ended in summer 2016 after the show cut her "Live Eye" segment) and her recent stint hosting The Bachelorette Canada, started her career in radio on Key 590.