SNL's "spicy" season hits a ratings high for Global
On TV sets and online, viewers flocked to watch Melissa McCarthy and Alec Baldwin reprise their White House roles.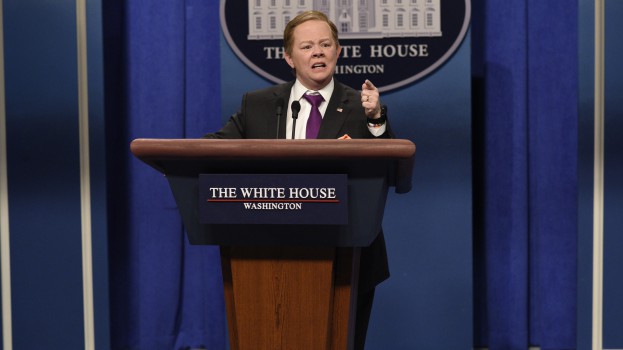 Saturday Night Live has hit a hot streak for Global TV. The late night series' most recent broadcast on Feb. 11 recorded an AMA of 1.7 million viewers (2+) for the episode, according to Numeris, making it the highest-ranked broadcast of SNL on Global since 2004.
Overall the series has seen a drastic jump in ratings over 2016 numbers. According to Numeris, ratings for the January and February period have grown 93% for 2+ and 68% for adults 25 to 54 year-over-year. The series' performance in the fall also saw a significant lift, up 60% year-over-year for 2+ and 52% for adults 25 to 54.
The Feb. 11 episode was hosted by Alec Baldwin, who has famously been playing U.S. President Donald Trump on the show. He was joined by Melissa McCarthy, who started the show with a cold open as White House press secretary Sean Spicer. McCarthy's first surprise performance as Spicer during the previous episode drew massive attention on social media, with 23 million views of the clip on YouTube and praise from the likes of the New York Times and the Washington Post (and even a response from Spicer himself).
A similar story was told online — while SNL's official YouTube channel doesn't allow its clips to be viewed in Canada, more than 151,000 viewers caught the episode on Global's website. According to Corus, 51% of visitors to GlobalTV.com between Feb. 12 and 14 engaged with the online SNL properties.
Overall, since the season began in October, Global's online clips of the show have amassed more than 1.5 million views, with averages nearly doubling since October.
On social media, the episode was mentioned on Twitter at least 78,000 times by Canadian users.
The episode helped SNL south of the border as well. According to Variety, NBC's broadcast of the episode had a 7.2 household rating and 18 share in Nielsen's 56 markets, which cover about 70% of U.S. TV-owning households. The YouTube clip of McCarthy's cold open received more than 11 million views.