Spotted! A transit shelter that keeps you warm
Ikea Canada has brought the feeling of being wrapped in a blanket to a Toronto OOH ad.
Ikea Canada is warming up the streets of Toronto this winter… well, one transit shelter on one street.
The retailer has been promoting its Market Hall selection of products since late 2016, and the latest wave of ads is focused on reducing energy consumption (and heating bills) in the colder months by layering on wool blankets at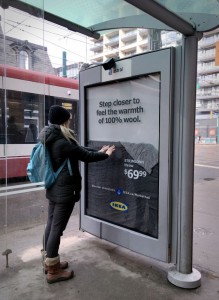 home.
To illustrate the warming effect of its blankets, Ikea, along with its media agency Jungle Media and creative partner Leo Burnett, have built a transit shelter with an ad that heats up when someone stands in front of it. Once a consumer enters the transit shelter on King St. West, a fan is activated by motion detectors, with the air warmed by heaters at the bottom of the shelter filling the ad case. The fan shuts off after 20 to 30 seconds and stays off until the motion sensor is activated again.
The heaters at the bottom of the shelter are equipped with a thermostat that ensures the air remains between 80 and 85 degrees Fahrenheit.
Lauren MacDonald, head of marketing, Ikea Canada, said the spot is the first interactive transit shelter ad for the retailer, but follows experiential activations like its pop-up experience in downtown Toronto last spring and human-powered billboard for Earth Day in 2015.
The winter Market Hall campaign also includes a 10-second TV spot, digital and mobile ads, social media support and static and digital OOH advertising. The experiential OOH ad will be live for four weeks in Toronto, and MacDonald said there aren't plans for any additional warming ad locations.